King Lear
William Shakespeare
House on the Hill Productions
The Rose, Bankside
–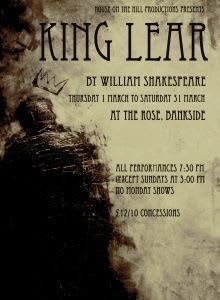 Shakespeare's famous tragedy King Lear sees the old clashing with the new and what better setting could there be than The Rose Theatre—the first original playhouse on Bankside, predating the Globe—where Elizabethan and early Jacobean spectators would have enjoyed performances 420 years ago.
This classic tale is pertinent to today's culture: an ageing parent must decide how to split the inheritance due to his three daughters and Julian Bird's Lear shows how wisdom does not always come with age as he spurns the sincere devotion of young Cordelia (a fine early career performance from Emma-Jane Martin) for the overtly vocalized platitudes of Goneril (Elisa Ashenden) and Regan (Jessica Guise).
The production team (director Grace Wessels and House on the Hill) has repositioned events to the 1920s and this works well: the decadence, costumes, cocktails and original jazz music (kept judiciously in the background) encapsulate an era where youth and living for the day take precedence over long-term plans.
The actors make superb use of the small playing space that is directly in front of an audience of fifty (great raked seating here: other small venues should take note). The whole site is utilized, meaning that outside action (Lear in the forest) takes place against the opposite walls, giving a detached feel at times but allowing a suitably ghostly feel as glimpses of the Rose's remains rise in and out of focus.
Judicious cuts accommodate a shorter playing time and consequently some plot development seems a little truncated but it doesn't deter from enjoyment—and it is really worth seeing Alex Woolf—a younger Eddie Redmayne in the making—who shows great promise as a scheming, sneering Edmund.
As this is an archeological / historical site with work in progress there are no bathroom facilities, but helpful staff inform of alternatives before the play commences: at one hour fifty minutes' duration with no interval, it's sensible to take heed. Productions such as this should help attract audiences that will, in turn, allow the Rose to be preserved and developed further.
Reviewer: Anita-Marguerite Butler