For King and Country
John Wilson
The Touring Partnership
Theatre Royal, Newcastle, and touring
(2009)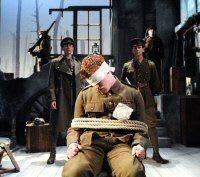 It's always interesting, if rather worrying, to consider why you haven't really got a handle on a play you thought you knew. In the case of For King and Country, I initially found it difficult to locate the piece in the context of the 1960s (first performed 1964.) It hardly fits the usual profile of that decade's most characteristic drama, and I had always misplaced it somewhere at the grittier end of the 1950s. Watching this revival, I found myself appreciating how the overt questioning of the status quo which typifies so much 60s theatre is actually used by John West to fuel the entire piece, but is designed only to be perceived through the meshes of equally potent concepts of duty, responsibility, and conscience. The play's timeless central theme has not so much to do with shell-shock ( potent as the issue of Post Traumatic Stress Disporder may remain) as it has with the idea of an overpowering internal logic, of a situation which, once entered into, generates a genuinely compelling necessity that can nonetheless be grotesquely inappropriate. The play inexorably fixes its audience into a position both privileged and acutely uncomfortable – we are permitted the detached over-view of historical hindsight but simultaneously absorbed into the human dimension of why and how such situations can prevail. No-one is going to walk out of this one with a smile, not even a wry and knowing one.
This is also an evening in the theatre that really does have to be (and is) short and intense. An interval would have been massively appreciated but completely wrong – though the implication of the theme is universal, the dramatic tension comes from being trapped in an unthinkably awful time and place and we can't be let out until this particular event has run its course. So yes – it all felt rather claustrophobic, from the moment when the brilliant opening design devastated a landscape before our eyes. We start not with action but with consequences – this is a play where people try with the best of intentions to sort out a complex situation armed with the bluntest of tools. A young soldier has walked away from Passchendaele, technically deserting his country and his duty yet with no more defined purpose than to put some space between himself and a situation of unspeakable horror. Far from being a conventionally sensitive type he is a working-class chap, inarticulate and honest to the point of appearing dim-witted. He has no scheme, no tricks, no excuses, nor even any secrets for the drama to reveal. What is uncovered by the questions of the officer who defends him is just a string of circumstances that might have undone the strongest constitution – news of his wife's infidelity, a near-drowning in a pit of mud, the blowing-up of a comrade that leaves him spattered with the detritus of the man's body. But in the trenches there is no such thing as an extenuating circumstance and no way of perceiving any mental anguish short of obvious lunacy. Private Hamp's injuries are apparently invisible, though his constant need for the latrine stands in pretty well as the sign of his internal dissolution.
Needless to say, it's an immensely testing role, offering no loopholes where charm or energy might convey a brighter side to the character. Adam Gillen, with his lumpen, child-like stance and heavy articulation, does a magnificent job of conveying the anguish of the unassuming Hamp, burdened with an innate, unthinking honesty that does him no favours. This complex revelation of what constitutes apparent simplicity was stage-craft of the highest order and I won't be the only critic to predict great things for an actor getting his baptism of fire. The playing of the other roles is perhaps bound to feel more conventional just because they are more conventionally written, but they certainly didn't fall short in terms of perception and delivery.
Daniel Weyman gained increasing momentum as Hamp's defender, the educated coolness with which he engaged with the case visibly rubbed away by sympathy, exasperation and ultimately the realisation that circumstances have created a logic as inarguable as it is inadequate. Other memorable characterisations included Patrick Drury as the medical officer who can't allow himself to consider mental disorders while men are dying around him and David Yelland as the President of the military court, insulated by procedure and authority. It's a gift of a role, but Kevin Doyle as the Padre was particularly notable, offering Communion while admitting the expedients of rum and morphine.
Not a comfortable play but a perceptive and finely-detailed production.
Reviewer: Gail-Nina Anderson