Kinky Boots
Book by Harvey Fierstein, music and lyrics by Cyndi Lauper
Bristol Hippodrome
–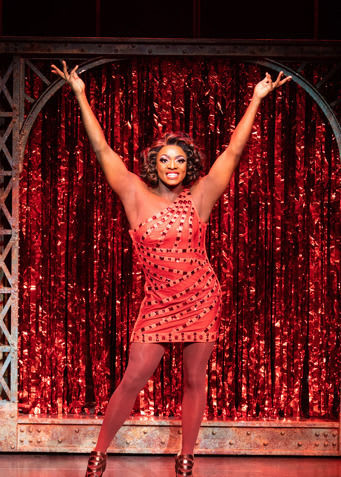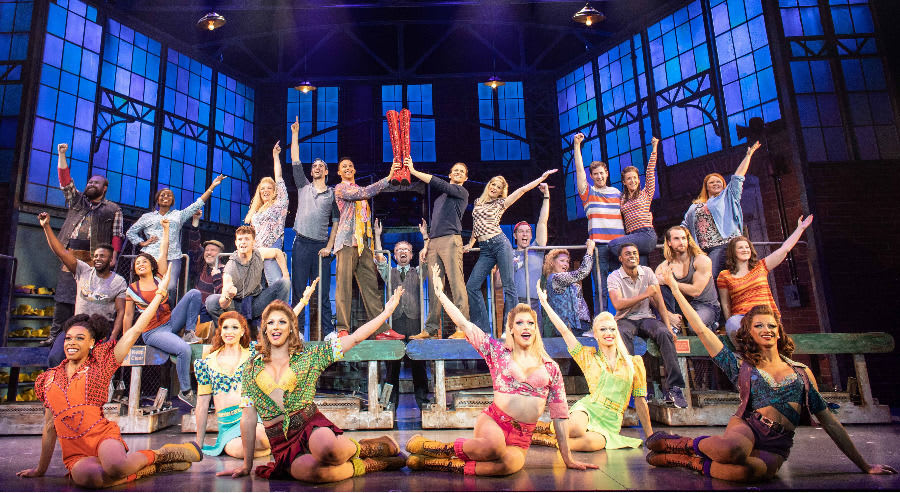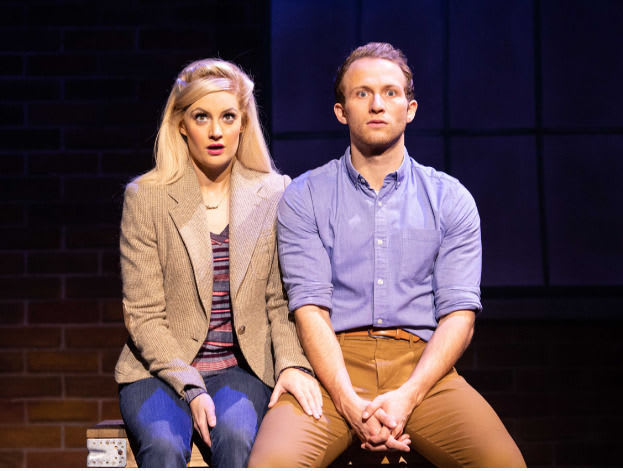 Bristol Hippodrome makes way for the industrial north, as an ailing Northampton shoe factory takes centre stage on the latest stop in the Kinky Boots UK tour. Adapted from the 2005 film of the same name and based on real events, the hit musical has garnered a clutch of awards since its 2012 Chicago première for its book and original score penned by Harvey Fierstein and Cyndi Lauper.
When Charlie Price's father dies unexpectedly, Charlie's new life in London with his fiancée Nicola is turned upside down. He returns to his family's factory to find it making high quality, long-lasting shoes that nobody wants any more. The workers' future seems grim, until Charlie bumps into drag queen Lola and hits upon the idea of catering for a niche market: flamboyant thigh-high boots, whose current shoddy construction is snapping under the concentration of a drag artist's manly weight on a sliver of stiletto.
Recreating his original tight direction and choreography for the tour, Jerry Mitchell's ensemble numbers are never short of spectacular, although they could occasionally be sharper both musically and lyrically. But to really fly, the show demands a larger-than-life powerhouse performance from Lola. Here Kayi Ushe—having recently taken over the role from the stalwart Callum Francis who now fronts the Broadway production—is staggeringly good.
Ushe's Lola explodes onto the stage complete with his bevy of Angels, a coterie of drag artists who fill the drab industrial setting with song, dance and inventive acrobatics. Gregg Barnes's costumes are a riot of colour and sequins and the Angels' performance on the factory's conveyor belt as they anticipate strutting the Milan catwalk in the ensemble number "Everybody Say Yeah" is a visual feast.
Ushe is equally believable dressed as a man, tentative and vulnerable as he bonds with Charlie over the weight of paternal expectations thrust upon them. "Not My Father's Son" is a poignant counterpoint to the extravaganza of the louder numbers and provides a moment of real emotional heft. "Hold Me in your Heart", performed by Lola as though to an audience of thousands, also allows for a moment of bittersweet closure.
The exploration of personal identity and move to acceptance of diversity from all the leads is well balanced; a little predictable maybe but celebratory and never preachy. Joel Harper-Jackson as Charlie makes the most of his less showy central role, and there are strong performances from Paula Lane as factory worker Lauren (swooning comedically through her big solo number "The History of Wrong Guys") and Demitri Lampra as the recalcitrant Don, whose journey to inclusivity is the furthest and perhaps most endearing one of all.
The story is supplemented by a romantic subplot, as materialistic Nicola (Helen Ternent) shows her true colours and Lauren finds herself falling for her boss. There's some nifty staging—such as the slow-motion boxing match in act two—and whip-smart one-liners (as his disapproving father succumbs to lung cancer, Lola quips that the fags got him in the end). Though there's never much doubt about the final outcome, it's still a delight to watch how everything that seems to fall apart is stitched together again during the exuberant dénouement in Milan.
Reviewer: Claire Hayes