Kinky Boots
Harvey Fierstein and Cyndi Lauper
Daryl Roth and Hal Luftig
Sheffield Lyceum
–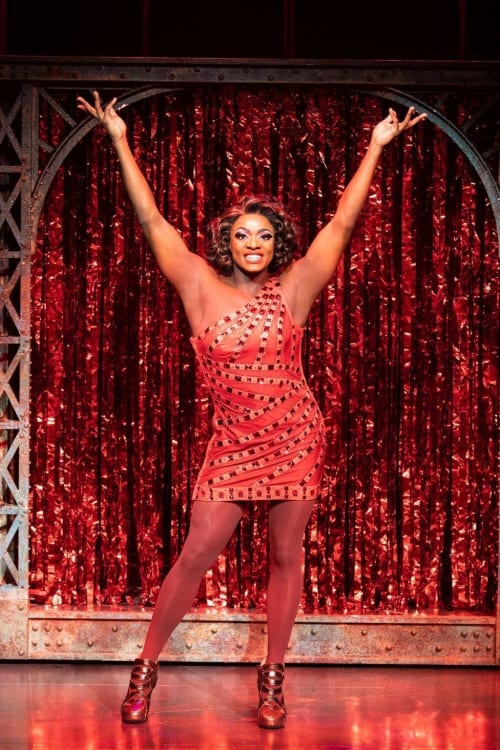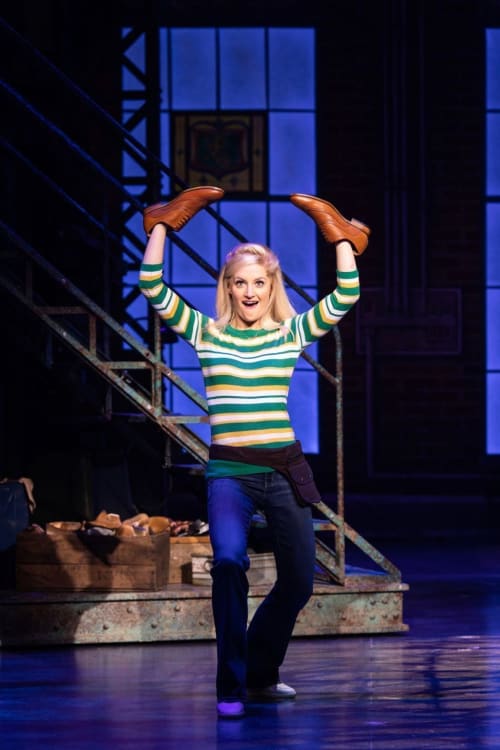 Kinky Boots the Musical swept into the Sheffield Lyceum this week with Kayi Ushe a thrilling and dominant presence in the central role of Lola.
Based on the 2005 British film written by Geoff Deane and Tim Firth and inspired by true events, the musical tells the story of Charlie Price. Having inherited a shoe factory from his father, Charlie forms an unlikely partnership with cabaret performer and drag queen Lola to produce a line of high heeled boots to save the business.
The huge interior of the boot factory designed by David Rockwell dominates the action in the early scenes, providing opportunities for choreography using stairs and conveyor belts, and is later transformed to present a boxing ring and a Milan catwalk.
Costume design (Gregg Barnes) is outrageous, stylish and a riot of colour, especially in scenes in which Lola and his company of Angels display their energetic and often acrobatic performance skills.
The production is a high octane explosion of loud rhythmic music and dynamic dance routines with ensemble and full company numbers like "Everybody say Yeah" and "Raise You Up" / "Just Be" particularly effective.
But there are quieter moments in the show which explore common experiences shared by Charlie and Lola such as their inability to conform to parental expectation and their difficult path to mutual understanding and acceptance.
While Kayi Ushe is undoubtedly the star of the show, Joel Harper-Jackson is a convincing and sympathetic Charlie, whose solo spot "Soul of A Man" is deeply felt and interaction with other cast members always effective.
There is strong support from Paula Lane as Lauren, the girlfriend who cannot share Charlie's determination to save the factory, and from Helen Ternent as the attractive and intelligent worker who can barely conceal her growing affection for Charlie.
Another key character is Demitri Lampra's Don, who provides a comic element in the action but also makes the journey from prejudice to acceptance.
The ensemble of workers includes a number of standout performances from Scarlet Gabriel, a worker determined to stand up for her rights, Lizzie Bea as a supportive and helpful member of the workforce and Andy Watkins as Mr Price.
The group of Angels are accomplished drag artists in their own right and add spice and vigour to the entertainment.
This production was enthusiastically received by the Lyceum audience and, as the pre-performance publicity suggests, offers 'heaps of heart, irresistible style, killer songs and a sensational cast'.
Reviewer: Velda Harris