Kinky Boots
Music and lyrics by Cyndi Lauper; book by Harvey Fierstein based on the film written by Geoff Deane and Tim Firth
The Lyric, Theatre Royal Plymouth
–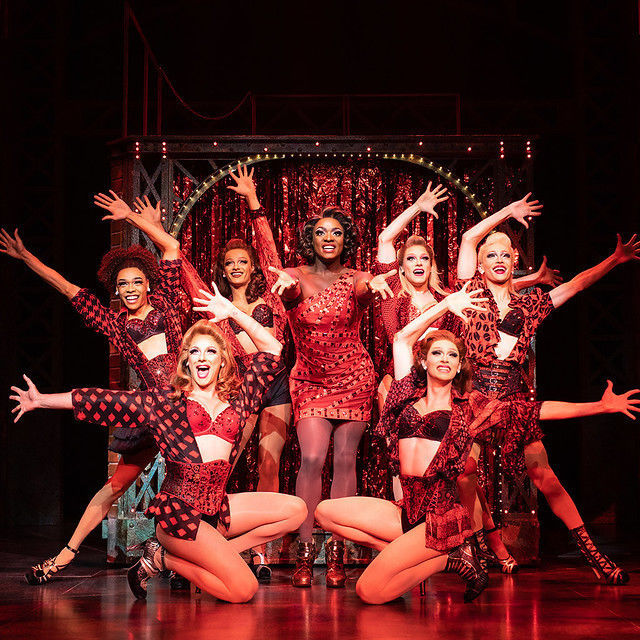 Trepidation at seeing a favourite film transported to stage musical was, for the most part, unfounded with almost the whole packed house on its feet for a standing ovation.
Based on the true story of a Northampton shoe factory beating closure and bankruptcy by filling a niche market with sexy, thigh high boots for men, Kinky Boots oh so narrowly avoids becoming a polemic on diversity and acceptance.
Charlie Price (Joel Harper-Jackson) is desperate to escape his down-at-heel home town and the family business making sensible shoes which will last a lifetime. Just as he and fiancée Nicola (Helen Ternent) take up property marketing posts in worlds-away London, his destiny calls as his father dies harbouring a secret.
With remaindered stock and orders collapsing as cheap imported shoes give investment footwear a fatal kicking, Charlie finds himself unable to hand P45s to the workforce he has known since childhood. Enter the unlikely saviour, strident diva Lola and her band of sexy strutting Angels and a broken stiletto heel, to save the day and steal the show.
The fabulous Kayi Ushe is bang on point as the glitzy drag queen with a sharp tongue, a vulnerable core and outrageous designs. Making believable the sadness of a misfit childhood, success as a professional boxer and the soft-centre behind the wigs and false eyelashes, Ushe is convincingly both sassy and poignant—and his "Not my Father's Son" duet with Harper-Jackson superb.
Tony Award-winner David Rockwell's set pins down the essence of the old-fashioned creaking factory with dull production line, tea trolley and much dejected industry colliding with the vivid and vivacious world in which Lola and her posse glitters and gyrates and entertains.
Remaining faithful to the Geoff Deane and Tim Firth 2005 film doesn't always work with no time for relationships to develop (other than that of Charlie and Simon) and Cyndi Lauper's fairly pedestrian music and lyrics mostly seemingly shoved in—save for Lola's showpieces. Jerry Mitchell's direction is tight and choreography of the Angels and ensemble tremendous, while some solo dance moves feel clunky and uncomfortable. Although the clunkiest and most uncomfortable of the lot is the best: Charlie's clumsy and cringeworthy catwalk catastrophe.
Amongst a busy and talented company, Demitri Lampra is Neanderthalesque Don, bigoted and blinkered, but whose learning curve to acceptance and understanding is pivotal while Adam Price's tan-overalled foreman George is a delight as he discovers a new side to his dull existence. Paula Lane is love interest Lauren but, although her "The History Of The Wrong Guys" is fun, she is rather sidelined despite being central to the road to success and Charlie's future.
Obvious and flawed but uplifting and great fun. Well worth a look.
Reviewer: Karen Bussell