Kinky Boots The Musical
Book by Harvey Fierstein, music & lyrics by Cyndi Lauper
New Wolsey Theatre and Queen's Theatre Hornchurch
New Wolsey Theatre, Ipswich
–

Listing details and ticket info...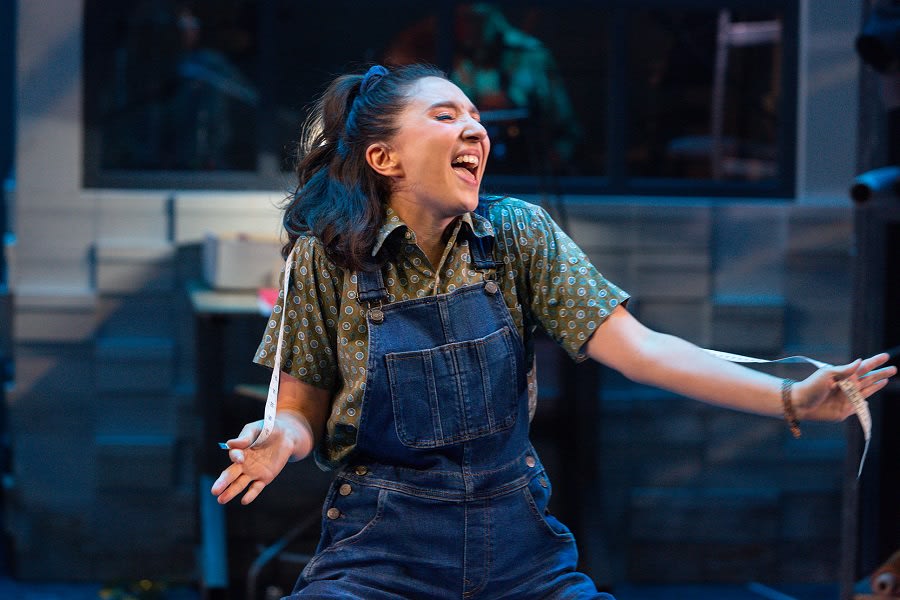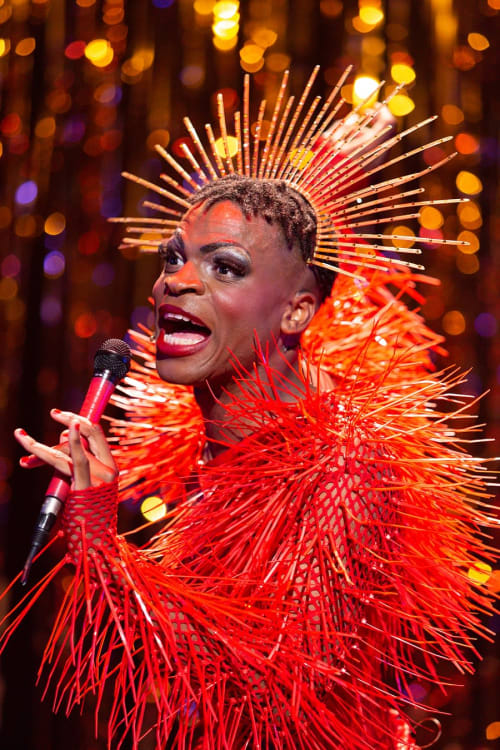 It's ten years since this gloriously over-the-top musical first hit the stage, and this New Wolsey / Queen's Theatre Hornchurch production is the first UK revival since then.
There is no doubt that this musical is a bit of a strange fish and not to everybody's taste, being the unlikely combination of on the one hand the story of a failing shoe factory in Northampton and on the other a London drag queen with identity issues.
But amazingly, it's a true story, and in the process telling an uplifting tale of how to 'be who you are', realise your full potential and rise above bigotry and prejudice.
It centres on Charlie Price who reluctantly inherits the family shoe factory on the death of his father only to discover that it's on its knees. Although he never wanted to follow in his father's footsteps, he feels responsible to the workers so goes to London to try and flog the surplus stock.
This is where he meets 'larger than life' drag queen Lola with whom he hatches a plan to produce flamboyant boots with stronger heels and hence find a niche market and turn fortunes around. But when Lola arrives at the factory to help with design, things get tense amongst the more traditional workforce and the pressure builds to breaking point as they try and find away to get to a fashion show in Milan to launch the boots in the face of impending bankruptcy, Lola's disappearance after an altercation and Charlie's crisis with his fiancée.
There are some great moments in this production, especially the scenes with the drag artists, Lola's Angels, who really bring the whole performance to life. Keanu Adolphus Johnson is a wonderful Lola, who takes the part by the scruff of the neck and gives it his all. He is well supported by the other queens who belt out the songs and execute some pretty impressive dance moves, especially George Lynham the Dance Captain.
In contrast, the rest of the show seems a little low key and understated and feels as though it could have done with a couple more cast members or a bit more spent on the set, which, although cleverly designed so that the factory offices at the back double to house instruments and pull-outs reveal Lola's dressing room etc, looks in the main a little drab.
Matt Corner has a great voice as Charlie but maybe could do a bit more with the characterisation. Roddy Lynch is not threatening enough as bigot Don. In contrast, Aruhan Galieva as Charlie's assistant and love interest Lauren really stands out—her solo during the second act sets the stage alight and her character comes across beautifully.
The supporting cast work hard, called on as they are to play instruments and sing as well as take on particular characters.
The production definitely comes more alive in the second half as it heads towards confrontation with the main protagonists, a lot of soul searching and the Milan show finale, which is well executed and very colourful.
But all in all, it's a fun show, and if you like a good-hearted pop musical and enjoy watching cabaret style drag acts, this is for you.
But if you like a more traditional musical, maybe not.
Reviewer: Suzanne Hawkes