Kiss Me Kate
Music and lyrics by Cole Porter Book by Sam and Bella Spewack.
A co-production with Chichester Festival Theatre and The Old Vic
Chichester Festival Theatre
–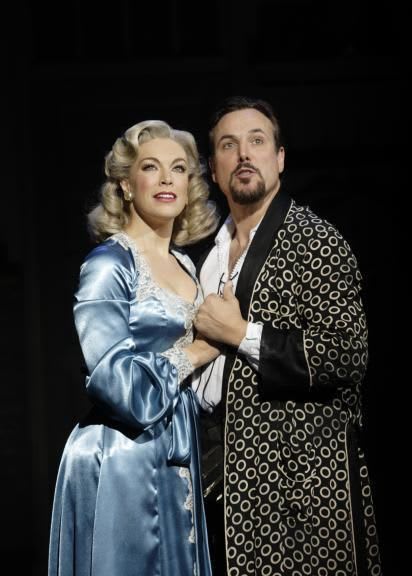 Every now and again along comes a show in which each flawlessly-crafted part blends seamlessly into a satisfying and exquisitely enjoyable whole and Trevor Nunn's production is one such show.
Based on the story of a small-scale company putting on a production of Shakespeare's Taming of the Shrew, the warring couple in the 'play within a play" are a mirror image of the divorced actors playing their parts—something very familiar to the writers as not being too far from their own lives.
Cole Porter's well-loved songs and relevant witty lyrics are a joy in themselves. Add to the mix a team of actors, dancers, singers, musicians, designers, choreographers, all at the top of their professional tree, and you have something really special.
There is laughter, there are tears, exuberant joyous dancing, some vicious fighting between the leading couple, and a happy ending—despite my still being not quite able to come to terms with what I see as Shakespeare's misogynistic attitude in this particular play.
Orchestration by Gareth Valentine makes itself felt in the best way, enhancing and giving emphasis to the moment—the wail of saxophone or clarinet in "So In Love" bringing the feeling of wistful heartache to both Hannah Waddingham's and later Alex Bourne's moving interpretations, and the wonderful Waddingham as the diva Lilli Vanessi / Katherine effectively brings her "Wicked Witch of the West" voice to "I Hate Men" as, in a ferocious rage, she throws utensils and furniture at everyone within range.
There are some very effective and ingenious surprises from designer Robert Jones with one scene melting into another helped by curtains, poles and some slick swivels, as well as some gorgeous costumes, and Stephen Mears's choreography is, as always, exceptional. The "Too Darn Hot" number, led by Jason Pennycooke's Paul (with a couple of interruptions from Wendy Mae Brown's golden-voiced Hattie), almost stopped the show, with arms, legs and bodies creating intricate patterns in this exuberantly sexy, sultry dance.
Another showstopper came later in "Brush up your Shakespeare" as the two gangsters found themselves centre stage and (reluctantly) had to perform, and performed so well that the audience didn't want to let them go—David Burt being the worldy-wise one and a pugnacious-jawed, adenoidal Clive Rowe surprising everyone with his Shakespearian quotations, learnt in the prison library.
So many magic moments it's impossible to do justice to them all, but who could forget Holly Dale Spencer's 'not so dumb' dumb blonde showgirl Lois and "Why Can't you Behave" sung with gambler boyfriend Adam Garcia's Bill—and Garcia has his turn to shine in a superbly executed fast and furious tap number. General Mark Heenehan, rushing to rescue Lilli from the cruel treatment meted out by Fred, is a great comic turn as the pompous military man timing his wedding day minute by minute. The show flashes by in a whirl of song, dance and storytelling with Bourne's Fred / Petruchio finally getting his kiss.
A jewel in the crown of the 50th anniversary season at Chichester, and yet another of this theatre's amazing musical revivals to transfer to the capital. Watch out for it London—you're in for a treat!
Opening at The Old Vic on 3rd December, 2012, with previews from 20th November.
Reviewer: Sheila Connor