Kiss Me Quickstep
Amanda Whittington
New Vic Theatre and Oldham Coliseum Theatre
New Vic Theatre, Newcastle-under-Lyme
–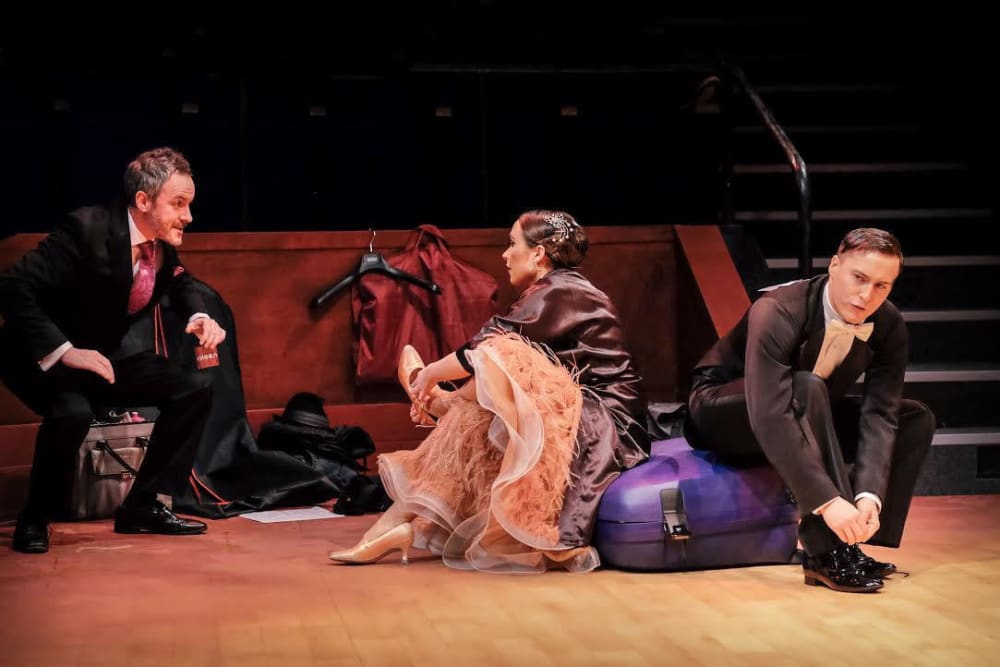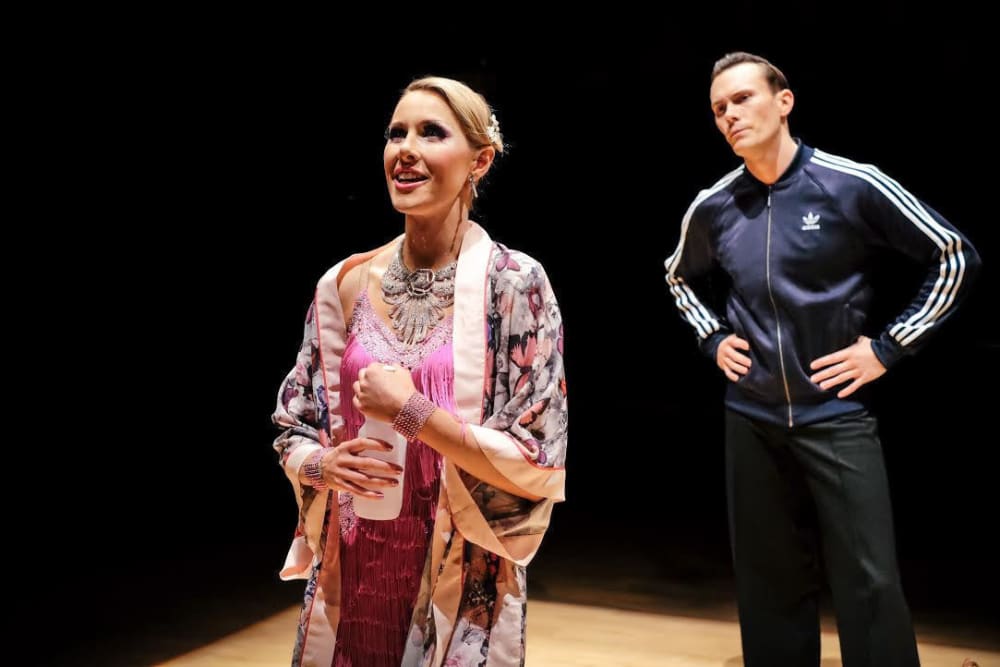 When Nottingham writer Amanda Whittington was awarded a theatre writing bursary in 2012 to research a new piece of work, she resisted the temptation to go to an exotic location. Instead she went to Blackpool for its annual dance festival.
As a fan of Strictly Come Dancing, she wondered whether there was a play about the fabulous frocks, fixed smiles, fake tan and intense competitiveness of the glitzy world of ballroom dancing. The result is Kiss Me Quickstep.
The play follows the fortunes of three couples as they try to make the final of the national amateur championships. Naturally enough, each pairing has its problems which could turn into "a disaster, darling" as Strictly judge Craig Revel Horwood might say.
The strength of Kiss Me Quickstep is in the cast whose abilities on the dance floor left most of the audience gasping on the night I attended. The weakness of the piece is that it seems under-developed; the dancing appears to be more prominent than tension and conflict between the couples.
The production begins with the arrival in Blackpool of Luka Kralj, who has come from Russia to compete in the championships, and his partner Nancy Knight, in training since she was three. Shortly afterwards, Nancy's dad Mick shows that he will splash as much cash as possible to ensure her dream comes to fruition.
Next come Jodie and Justin Atherton whose determination to take part was almost derailed when their car broke down on the hard shoulder of the M6. Finally, Lee Hart and Samantha Shaw, clear favourites for the title, breeze in and put fear among the other competitors.
There is little to fault the acting in Theresa Heskins's production. Hannah Edwards is engaging as Nancy, especially when she sticks to her principles. There is tension towards the end when she clashes with her win-at-all-costs dad, played with vigour and credibility by Jack Lord. Isaac Stanmore gives an impressive portrayal of Luka whose focus on perfection is matched by his Russian accent.
Abigail Moore and Matt Crosby are arresting as Jodie and Justin, the couple whose motives for taking part in the competition change more times than Jodie swaps her costume. They are probably the finest dancers too, admirably strutting their stuff in both the ballroom and Latin sections.
Amy Barnes is captivating as Samantha, the envied dancer who has appeared twice on the cover of Dancing Times but who swigs vodka as she struggles to find her real self. Ed White shines as Lee who feels his drive and ambition are far more important than Samantha's self-doubt. As he says, "competitive dancing is not about confidence. It's the illusion of confidence. And you can create that."
When members of a community ensemble from the Academy for Theatre Arts take to the floor, there are 11 couples displaying their talents at one time. The dance routines are little short of extraordinary. There's a winsome waltz, a tingling tango, a sizzling samba and a pulsating paso doble. It's enough to earn a ten from Len Goodman, Strictly's lead judge.
But as much as I enjoy the majority of Amanda Whittington's work, Kiss Me Quickstep, although entertaining, seems out of step as a piece of theatre. There is the foundation of an excellent play here although the drama is sauntering along a couple of steps behind the fancy footwork.
Reviewer: Steve Orme