Kitty and Damnation
Joseph Crilly
Lion and Unicorn Theatre
(2009)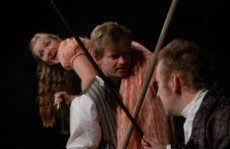 Irish playwright Joseph Crilly sets his new play at a key point in Irish history just after the Catholic Emancipation Act has been passed in 1829 and opens it in Belfast where he presents it as a still contentious issue. However, although a petition against the Act with its many signatures written on a great length of cloth is an important feature of his plot, this is not a political play. The fact that the eponymous Kitty is a Catholic doesn't stop the son of her village's best-off Protestant from wanting to marry her, nor does the fact that she's probably also been with most of the lads in the village.
Kitty Galloway is a pretty little thing who must have a lot to tell her priest if she ever goes to confession. Lover Davy (Shane Armstrong) and carter Ned (Ruairi Conaghan), a fellow Catholic, who seems quite keen on her himself, are looking for her in Belfast where the star-struck girl has got herself involved with the famous actor Edmund Kean, now at the drunken declining end of his career but still charismatic. Edward Kingham, while making Kean hilariously but very believably inebriated, still manages to suggest his magnetism and histrionic power.
Kitty may lack morals but Amy Molloy plays her with a youthful innocence that even survives strangling her sister, an act which makes her flee with Ned to London where she becomes the prey of Hamilton, a Seven Dials broadsheet printer, and Hector Simpson, proprietor of a tumbledown penny gaff - these a pair of delicious characterisations from Peter Gerald and Hugo Terry which could have come straight out of Dickens. What Molloy misses is a suggestion of her hidden guile, for it turns out that, unlike her neighbours, she is both fully literate and adapt at using others, including Kean, to her advantage.
Gerald also doubles as a Catholic sending up a ranting Protestant in an over-the-top cameo that he pulls off by sheer bravado, and Charlotte McCurry as the strangled sister and Aimee Parkes as a wannabe singer caught up in an animal act all get their moments, but Conaghan, who bears the brunt of the play as Ned does not really get the chance to play the hero, director Rafe Beckley has him driving things along at such an unrelenting pace..
Crilly gives us some sense of the print shop and the run down theatre but he doesn't really give the Irish scenes enough sense of place and community and there are some awkward points in the plot that he avoids solving by simply leaping over them. His plot and plotting often seem a sort of hommage to melodramas of the period by the likes of 'Monk' Lewis, an aspect which it might have been an idea to have reflected in the staging and lighting which, though elegantly dressed, is at its simplest except for a colourful backcloth for a stage scene of theatrical Irishness, complete with a big brown bear, supposedly native. His writing manages to suggest a period flavour without ever sounding old-fashioned although, especially when the audience is concentrating to penetrate heavily authentic Irish accents, its complexities are not always easy to follow.
The story is often a dark one, with families dead from typhoid fever and travellers going for days without food, quite apart from the plot's own violence, but rather than being played in shadows it is wrapped in humour and that and the lively energy of the players disguise its faults and make this an evening to enjoy.
Tuesdays - Saturdays until 12th September 2009
Reviewer: Howard Loxton