Knives in Hens
David Harrower
Ustinov, Theatre Royal Bath
(2008)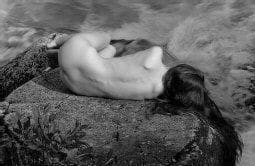 Charlotte Gwinner's new production of David Harrower's Knives in Hens cements the Ustinov's reputation for staging first-rate second productions of contemporary plays, adding to the studio's successful second-outings of productions such as David Grieg's Outlying Islands and Fraser Grace's Breakfast with Mugabe.
Gwinner directs a faultless cast of Welsh actors, the new setting working perfectly and blending seamlessly with Harrower's largely timeless, placeless original.
Robert Gwilym is a deliciously earthy ploughman. His passion and his mastery of land and beast spills over into his marriage and, as we come to see, colours also his attitude to women in general. A wife must be allowed to lie fallow like a good field, he tells the miller. She must be allowed to rest and recuperate periodically, he says, leaving the ploughman free to work pastures new. Gwilym masters Harrower's extended ploughman's metaphor with a compelling low and seductive delivery, achieving an eroticism wholly reminiscent of D H Lawrence.
Rhys Meredith is a dark and brooding Miller, in a captivating and intelligent performance. Gwilym's ploughman is brawn to Meredith's brain. The Miller, the village outcast, is widely regarded as lazy, his life considered largely free from toil. The mill stone and the river do all his work, and yet for that he takes a cut of all the grain he grinds. This sniff of a pre-industrial mistrust of mechanisation is worked perfectly by Harrower, who broadens the void between the men still further, making the Miller cerebral; literate; a lover of the written word. This in particular sets the two men apart; in fact the ploughman regards the miller's love of books as something almost effeminate: "Why you got them all standing there, touching?", he says of the Miller's collection of books. "Don't look right."
Siwan Morris' ploughman's wife is at first an engaging and dreamy innocent. Her love of life, her endearing thirst for language and her engaging curiosity about God's universe combine to lend her a childlike naïveté. But Morris perfectly manages her arresting metamorphosis into a self-aware and sensual woman.
Harrower has the woman emerge from the girl as a direct result of her love of language. The miller's pen unleashes her creativity, frees her from the constraints of her world. Her husband tries to keep restrained by toil: she visits him on the field with talk of clouds and clear-water puddles; the esoteric thoughts which fill her mind. He keeps her tethered, having her recount to him the tasks with which she has filled her day.
The miller, in contrast, frees her creativity. He rids her of her old-world suspicion of learning, ("Not telling you nothing. Not giving you what's in my head"). He encourages her to let loose her inner thoughts, to indulge them on paper. That this turns her world upside down is inevitable.
In all this Morris is no passive observer: her ploughman's wife is a pro-active protagonist in her own story. Morris has the woman collide with her world, with an increasingly aggressive physicality which echoes Harrower's aggressive language: "I push names into what is there, same as I push knives into the stomach of the hens"
This is a affecting and engrossing production. Gwinner's direction and Helen Goddard's design succeeds in combining the brutal realities of this pre-industrial Welsh community with a disconcerting ethereal timelessness.
"Knives in Hens" runs at the Ustinov Studio, Theatre Royal, Bath until 18 October
Reviewer: Allison Vale