Knock Against My Heart
Oladipo Agboluaje
Theatre Centre with Nós do Morro
Unicorn Theatre and touring
(2008)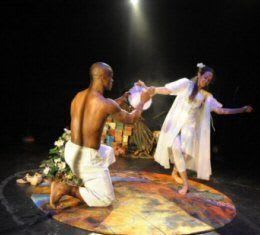 This hour-long play was developed by British writer Agboluaje and director Michael Judge in collaboration with Brazilian company Nós do Morro (currently also presenting Two Gentleman of Verona at the Barbican Pit). Its creation began at that company's home base in the favelas of Rio de Janeiro. It takes its inspiration from Shakespeare's The Tempest but, though its characters carry the names of Prospero, Miranda, Caliban and Antonio, has only the very slightest connection with it.
Prospero, as in Shakespeare's play, is a possessive and protective father to daughter Miranda but no banished Duke. "Why do you knock against my heart?" asks Miranda, "when ail I ask is that you love me?" Prospero seems to have left the city because his family's business has failed due to his brother Antonio's mismanagement. Now he is making himself a power base in the countryside by outwitting the indigenous population. "I am the biggest employer," he declares. "I brought civilization to this backwater." But he is not a beneficent figure: he has plans to pump away the river water and, by controlling water, gain control of the land.
He is up against Caliban, a Candomblé priest, at one with the environment and a defender of his people and their land. Prospero is also exploiting his brother with promises he never intends to keep. Antonio meanwhile encourages Miranda to break free while trying to outwit his brother, and Miranda and Caliban are in love.
In the Unicorn's black-box Clore Theatre, with the audience on three sides, Roma Patel's design presents a miniature favela on a hillside backed by the outline of Sugar Loaf mountain in bent cane, a circle of colour on the stage floor to suggest landscape and a river - at first I thought it Prospero's island until I realised this wasn't to be Shakespeare's story -- and a rostrum with the part outline of a doorway to suggest Prospero's house, location being established by where a particular scene begins.
Caliban starts the play with music on a stringed gourd instrument - a song that went on a little too long I felt, since the words were in Portuguese. Indeed, apart from a few phrases, William da Paula's Caliban spoke Portuguese throughout and, though responding dialogue in English made it possible to follow the outline of what was happening, I felt I missed a lot of information. Caliban performs some sort of Macumba ritual, and then Prospero and Miranda arrive with arms undulating like bird's wings and using binoculars to spy out the land. Was there some symbolism here I was missing?
The tale progresses with songs, dancing and capoeira combat when Caliban and Prospero are in conflict. There are strong performances from da Paula and from André Santinho as Prospero (both from Nós do Morro), with Mariana Whitehouse a delightfully innocent Miranda who dreams of being a singer and Dani Machancoses a self-interested Antonio. Its strong physical elements are particularly appealing but I ended somewhat confused. There seems to be a happy ending: but is Caliban dead and the culmination a blending of souls rather than a corporeal happy ever after?
I believe a play should stand on its own, not require preparing for and, since this one is presented by a British company rather than coming from abroad, I felt it lost something by using so much untranslated Portuguese.
For school parties it would certainly make a good starting point for a discussion of greed, exploitation, responsibilty for the land and even parent-granted freedoms. Perhaps for them some preparation might be helpful. I checked out the company website and discovered that I had not picked up on a whole strand of imagery with Caliban and Prospero taking the forms of a panther and a hawk when they fight each other. I also found that the use of Portuguese was a response to a young audience to whom the production had workshopped: they, seeing Portuguese actors made to speak in English asked, "Why don't they just speak in Portuguese?"
At Unicorn Theatre until 18th October 2008 then touring until 18th November 2008: Birmingham Rep, Contact Theatre, Darlington Arts Centre, Helmsley Arts Centre and Chichester Festival Theatre
Reviewer: Howard Loxton