Knot
Nikki Rumer and Jean Daniel Broussé
Nuffield Theatre, Lancaster University
–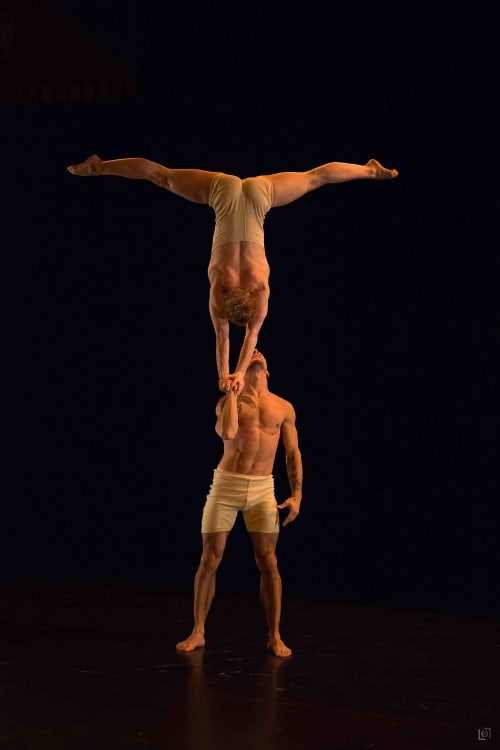 Any idea of a physical relationship has to be reimagined in the company of Nikki Rumer and Jean Daniel Broussé.
The duo—she's American, he's French—light-heartedly combine circus and dance skills in a 55-minute performance that starts out as a study of the initial bond between two people, takes an unexpected twist and then lands itself in the areas of rejection and, eventually, acceptance.
It's an act that has been developed by them over several years and been performed around the world, yet it still feels new, relevant, and even under-rehearsed at times.
They use their hand-to-hand acrobatic skills—not to mention foot-to-head and many other physical combinations—to act out a story of a unique relationship that relies on skill, strength and trust.
The excitement of 'young love' is performed to a jazz-backed routine; there's a techno backdrop to their falling out; and the eventual reconciliation is, naturally, accompanied by classical music.
In between, they freely relay thoughts and feelings directly to the audience, besides catching their breath between what are startling combinations of acrobatic balancing.
And then he flinches at an attempted kiss...
You may see it coming, but it takes their performance in new and illuminating directions, not to mention a prolonged wrestling sequence!
Knot gradually unravels their initial connection, and even poignantly touches on the loneliness that can exist inside a relationship. It climaxes with Screamin' Jay Hawkins hollering "A Portrait Of A Man", before maybe meandering off a little too much into parental relationships?
But it's still another of these small-scale, circus-style shows that thrive in this intimate black box theatre setting.
Reviewer: David Upton