Knot
Companhia de Dança Deborah Colker
A Dance Consortium tour
The Lowry, Salfird Quaysr
(2006)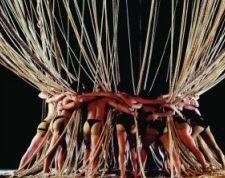 Brazilian born Deborah Colker was a Pianist and Volleyball player before she was a Choreographer and the importance of music and the athleticism of her company are a testament to this experience. The piece they performed on Tuesday night at the Lowry in Salford was called Knot and it was danced amidst a forest of over 120 ropes which decked out the Lyric Theatre.
In the first half the dancers worked in pairs or as an ensemble and interacted with the ropes in various clever ways. Sometimes they were bound and swung in them other times they were a changing backdrop. The themes of freedom and restraint were being explored to the clever staccato musical rhythms. Ideas of social control were played with inventively and beautiful body sculpts were equally on offer. In the second half the dancers performed within and without a transparent Perspex box and so ideas around confinement and pressure were on offer. This final movement was begun with a solo by the Olivier award winning Choreographer herself to great acclaim.
The settings by Gringo Cardia were cleverly realised. Ropes were hung with clinical accuracy as was vital. The red backcloth which fell towards the end of the first half gave a vivid backdrop to the final slowly circling body sculpt. Jorginho de Carvalho's lighting was equally impressive and really emphasised the physicality of the company. This reviewer found the music of Berna Ceppas more congenial in the second half when sultry jazz riffs complemented the changing tableaux.
Whilst the use of the box was impressive there was more energy displayed in the first part of the evening. The stage pictures were more impressive and easier on the eye.
It would be unfair to choose one dancer over another as they all worked so well together. This was certainly born out by the shouts of joy from the audience as the artistes took their well deserved bow.
The tour continues to Newcastle, Edinburgh, High Wycombe and Cardiff
Peter Lathan reviewed this show at the Theatre Royal, Newcastle.
Reviewer: Andrew Edwards