Knot
Companhia de Dança Deborah Colker
A Dance Consortium tour
Theatre Royal, Newcastle, and touring
(2006)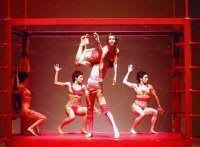 The curtain rises on a huge "tree" of ropes hanging from the flies, in front of which stand a man and a woman. Yggdrasil, perhaps, or that Forbidden Tree, whose mortal taste / Brought Death into the World, and all our woe - or even both. The two move straight into sequence which could have come straight from a BDSM movie, albeit heavily incluenced by the recent tendency to make use of aerialist skills in dance. Indeed bondage imagery plays a significant part in the first half of the piece and the whole thing is suffused with eroticism - heterosexual, homosexual, fetishistic - and verges, at times, on the pornographic, but somehow the choreography trancends the purely physical, becoming an exploration not just of its subject matter but also of our voyeuristic complicity in the events onstage.
This voyeurism becomes even more explicit in the second half, when the ropes are replaced by a perspex box within, on and around which the dancers use each other. Even the music is sleezier, as are the costumes (scarlet heart-shaped patches over the genital area). Choreographer Deborah Colker tells us the inspiration for the box is the shop windows of Amsterdam's red light district and the whole of the second half reeks of that tawdriness.
Indeed, the eroticism of the first half has degenerated. There it was a shared thing - both partners, whether same or other sex, take pleasure in what is happening - but now choice has been removed: dominance is forced on its recipient and there is a strong sense of the dancers being trapped, the confines of the box becoming the confines of a tawdry, commercialised sexuality. What had been free and welcomed has become a prison in which we, the audience, gawp at the inmates like visitors to a nineteenth century bedlam.
Ms Colker makes an appearance at the beginning of the second half and I have to say that I found it a bit of a distraction. I couldn't quite see the point of her solo and it did her no favours, for she is clearly not at that fantastic peak of fitness and body tone which the other dancers all share. However, that apart, I found the piece fascinating and am, yet again, amazed by the fitness and athleticism of the dancers.
The tour continues to Edinburgh, High Wycombe and Cardiff.
Andrew Edwards reviewed this production at the Lowry, Salford
Reviewer: Peter Lathan