Krapp's Last Tape
Samuel Beckett
Lakeside and York Theatre Royal
York Theatre Royal
(2009)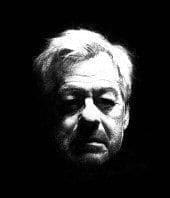 Kenneth Alan Taylor is best known for his longstanding commitment to writing, directing and starring in Nottingham Playhouse's annual pantomime, but his performance in last year's well-received Twinkle Little Star suggested a transition from actual pantomime dame, via the bitter realist dame character he portrayed, to Beckettian wistfulness, remorse and loss. However, it was not without some trepidation that I approached this production of Krapp's Last Tape, given the technical precision demanded by any of Beckett's texts.
As Krapp sits motionless at his desk, we sense that this is a man who's dying or who has possibly even died already. His clunky reel-to-reel recording device dominates the desk, and his addiction to bananas and booze shows little sign of having abated since his earlier days. We glimpse these younger years as filtered through a recording from several decades ago, in which he comments on having listened to an even earlier tape. At the end of the play, Krapp records his latest journal entry, reacting with new bile and disdain for his earlier selves and, in an older, more disjointed voice, remembering the women and books he's known over the years.
Mark Walter's design, a simple and cost-effective set which does nothing to hide the studio theatricality of the production, did little to convey the "den" in which Beckett has placed Krapp, but on the other hand did not obstruct the clean purity of Krapp's movement around his sketched-out environment. James Farncombe's similarly economical lighting design suggested the room in which the old man is living out the end of his days, with an effective window blind gobo cast large over the back wall. A number of small embellishments, however, did not serve the text well, such as the light which shone up out of Krapp's banana drawer as he rooted around for the fruit.
In essence, though, this moving glimpse into the reminiscences of a dying man relies (as so much Beckett does) on precision of movement and delivery. Taylor, with director Matt Aston, had found some exquisite gestures for the opening dumb show, such as when Taylor skirts the table almost inch by inch, dragging his bunch of keys noisily with him. The comedy in this painfully but beautifully drawn out mime was extracted impeccably, with what felt like an age passing before Krapp began to speak.
When Taylor did finally open his mouth, his rasping, guttural delivery was wonderfully effective, bringing out the life in Beckett's spare but at times lyrical text, and Krapp's obsession with certain words and sounds was conveyed with relish. This was not the bleakest Krapp imaginable, nor the most technically honed: certain movements, such as when the man bends to retrieve a banana skin, felt slightly snatched at - a small detail which nonetheless matters greatly when such emphasis is placed on the interminable repetition of slow gestures. But Taylor and Aston's interpretation is a refreshing one, and a welcome opportunity to witness a sturdy production of one of Beckett's most moving plays.
Reviewer: Mark Smith