Kravitz, Cohen, Bernstein and Me
Deb Filler
Deb Filler
Assembly Rooms
–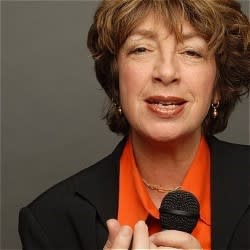 "Ladies and gentlemen, meet Deb Filler." This is hurricane Deb, no less. Get ready for the ride.
Kravitz, Cohen, Bernstein and Me is a story of colliding Lennys and Ms. Filler. "Deb Filler goes on a hilarious musical quest with The Three Lennys." And quite a diverse and colourful trio this is. Surely there were others, but the "Lenny" theme is a unique theatrical tool. There is a guitar on stage, so you know there is going to be music.
With slides of her past from newborn (cute) through those hippy days (fun to see), we witness Ms. Filler's adventures through her career. Like many during the '70s, Ms. Filler found her voice and the hippy community that welcomed her. If she had the stage presence and confidence then that she has now, it is no wonder.
She tells of a very amusing couple of run-ins with Lenny Kravitz that landed her on stage in the middle of his huge concert. (You have to hear it from her.) She also spins the stories that bring Leonard Cohen and Leonard Bernstein into her life.
It's lovely fun watching this extremely confident performer unravel and reveal her career. Crossing paths with these Lennys was a little fate raining down on a performer always on the cusp of celebrity. It's fun to hear her adventures and to sing along with some of the familiar tunes. And the audience does. Even when she translates very familiar songs into Yiddish. Very, very funny hearing the Beatles lyrics in Yiddish.
The light touch of director Sarah-Louise Young is perfect for this performer. She is a performer's performer.
Reviewer: Catherine Lamm