Kuli Kala
Music by Toshihiko Sahashi Book by Nobuhiro Mouri
30-Delux
Stratford Circus
–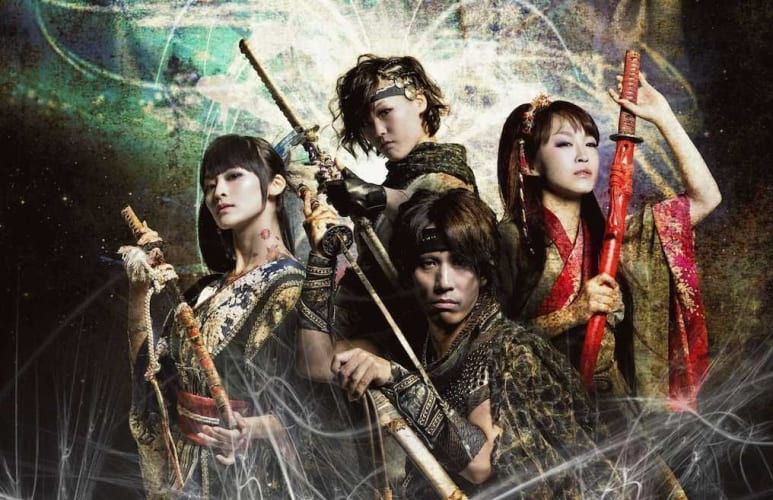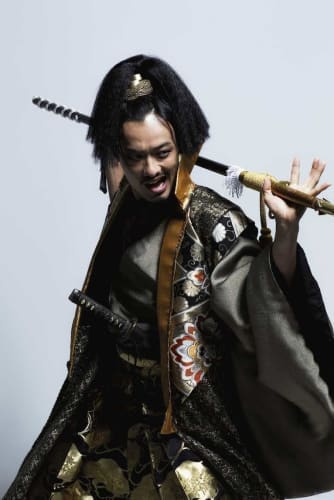 30-Delux is a Japanese theatre company specialising in the art of Ta-Te, a form of ritualised sword play choreographed for performance, for which this brief UK appearance is its first venture outside Japan.
Kuli Kala is the concept of established composer Sahashi who wanted to create a new kind of musical which would fit the company and this has resulted in a performance centred on sword play in which dialogue is sparse, songs are sung by independent singers, not those playing the actors, and an English language narrator tells the story.
These Ta-Te performers give a dazzling display of their swordsmanship. Blades flashing in frantic combat they provide an exciting spectacle made even more dramatic by Sahashi's music.
Dramatist and director Mouri has invented a tale that is like a traditional Japanese legend. It tells of an evil Shogun called Nobunaga, a magnetic Masaru Mori, wonderfully wicked and helped by a glaring-eyed make-up. He wants to rule the world and achieve immortality, and he is opposed by the samurai Isshin (Junji Shimizu) whose family Nobunaga has murdered.
Isshin wants revenge and as he pursues that path he meets three female Ninja fighters (Minami Tsukui, Ayumi Shomozono and Sena Kaneda), each of whom has had her family slain by that same Shogun. These women all bear a tattoo's curse that also seems to make them each an atavar of one of three deities.
Together they seek to put a stop to Nobunaga but together they will also be the means by which he achieves immortality. At least I think that is the story and it is made even more complicated by being told as a story within a story.
Sahashi's score seems very Western. It is played largely on electronic keyboards plus Japanese instruments, a koto and an electric shamisen, but there is no shakuhachi or other wind instrument or any bowed strings. Nevertheless, there are some numbers that seem to reflect traditional Japanese folksong, but emerging from a mixture of rhythmic pop, rock and the operatically dramatic.
Sahashi says he was "baptised by rock in the '70s" and there is much here that is reminiscent of Rick Wakeman's concept albums from that time. The staging also feels like an attempt to put an album on stage rather than something conceived as a piece of theatre.
The performance isn't helped by an introductory announcement in English followed by the same in Japanese and then a long passage of narration before any action gets started, or by the fact that the musicians are in a pit barely below stage level.
Since they are elaborately dressed (with parts of the costumes seemingly made out of bubble wrap) with impressive coiffures, with Sahashi conducting in a bold chequered jacket and rainbow waistcoat, it is clearly intended they should get attention. Standing so that they and their instruments are higher than the stage floor, you not only can't miss them but they form a barrier and a distraction between audience and action, with a narrator first on stage and them on a raised dais to one side of it.
None of the characters in the show sings and dialogue is sparse. All the songs are delivered by other singers who share the stage with the actors. The narrator is at first also on stage but then moves to a lectern at one side of it when there is something else claiming attention. Added to that the singers who don't sing off-stage synchronised with the performers become major performers themselves, commanding centre stage with the sword persons push back behind them.
The singers are excellent, vocally and as performers. Nataliya Gudziy is especially graceful in a trailing white gown and Toshihiko Nishimura is full of facial expression and dramatic gesture, but they seem to be giving a quite separate performance in competition with the actors, their relationship to them never established.
According to the notes that accompany the CD, the songs that occur at key points in the story are in the Japanese short verse form of the tanka (a little like a haiku but two lines longer) and their music is governed by its syllabic sequence. They often sound very beautiful, expressing ideas and feelings rather than communication, but poetic and philosophical statements are hardly what will be in the mind of fighters who at that moment must put all their wits into facing opponents.
The story telling isn't helped by the fact that the music often drowns out the narrator but the main problem is that this seems conceived as a pop music arena show rather than a staged drama. It needs interaction between its characters.
The costumes are stunning and the tattoos elaborate, but the projected scenery is an eclectic succession to no apparent purpose jumping from children's picture book images to woodblock prints (often animated Hokusai) to computer simulations. Along with the creased backing on which they are projected they don't match the polish of other elements of the production.
But this is a case where the parts are better than the whole. Brought together, they compete with rather than complement each other. Often musicians, the singers, the sword-wielding actors and an animation are all demanding attention—let alone translated surtitles!
As well as being fine swordsmen and women, these seem able actors and well able to handle dialogue and they move well. A move towards more acted-out narrative, whether spoken or danced, would make Kuli Kala work better.
The company is trying to do something new and one must applaud that. The audience with whom I saw it applauded it wildly but it needs more careful shaping, if the singers on stage make it clear what they represent, rather than just coming on demanding attention, and to forget the framing story, which drags the opening and adds only complication.
It is a pity this visit from 30-Delux was so brief. It would be interesting to see some of their other work and how this experiment will develop and to hear more of Toshihiko Sahashi's very theatrical music.
Reviewer: Howard Loxton