Kupenga Kwa Hamlet
William Shakespeare
Two Gents Productions in association with Oval House and The Watermill
Oval House Theatre
(2010)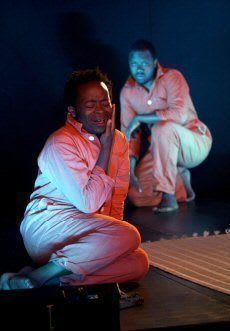 To cut, or not to cut, that is the question? Whereas some Shakespeare fans believe the bard should not be tampered with, Two Gents Productions' latest play, Kupenga Kwa Hamlet, shows that a 75 minute version of the tale can pack just as much, if not more of a punch than its longer cousin. But then, it is using the so-called first 'bad' quarto of the text, published in 1603.
Dressed in orange boiler suits, Tonderai Munyevu and Denton Chikura play out the tragic tale of Hamlet using gestures to signify the bard's characters. Gertrude has her hand constantly on her cheek and her wicked husband, murderer of Hamlet's father, stands proud with arms raised high; a pose imbibed with religious connotations.
Director Arne Pohlmeier's use of gesture is inspired. A simple gesture of the hand to conjure a character means that either actor can adopt a role in an instant. As the play progresses, the gestures take on new meanings and Claudius' proud, almost papal, hands aloft gesture later resembles the image of a criminal with hands raised as if suddenly discovered by the police and signalling his surrender.
This highly stylised production mixes Shakespearean tragedy with African rhythms, clowning and a touch of melodrama. There is even some wonderful audience participation in preparation for the up-coming panto season. Stereotypes are knowingly employed to create comic moments, and no moment was more sublime than the revelation of a young, street, pouting Ophelia, full of attitude, who could out-strut any catwalk model.
Not only masters in the craft of acting, Munyevu and Chikura possess beautiful singing voices which are used throughout the performance, resonating around the theatrical space and touching each audience member almost spiritually. Sound and rhythm are vital to the piece and Munyevu and Chikura's choral work powerfully demonstrates that music can evoke emotion much better than words alone.
This production of Hamlet cleverly plays upon the audience's expectations and knowledge of Shakespeare's text to comic effect. We are constantly reminded that in this version Polonius is in fact Corambis and audience members almost do a double take when hearing: 'To be, or not to be, aye, there's the point.' It is a treat to hear the text anew, not forgetting some contemporary flourishes which were most definitely not in the first or even second quarto.
Kupenga Kwa Hamlet's ending is inspired and the narrational device used earlier in the piece to signify a change in character really comes to the fore. As the deaths increase in number, new characters are introduced to avoid the actors becoming schizophrenic bodies. At Gertrude's death we hear from her computer studies classmate, whilst Laertes' rugby buddy narrates how he came to his sorry end and so each death is accompanied by its own unique eulogy.
Two Gentlemen Productions have created a masterful Hamlet in which its actors perform with passion, energy and confidence. This, along with the musical rhythms running throughout, makes Kupenga Kwa Hamlet a most engaging piece of theatre. Hamlet may end in multiple deaths, but this production is very much alive and kicking.
Playing until 4th December 2010
Reviewer: Simon Sladen