Kursk
Bryony Lavery
Sound and Fury
Young Vic and Fuel co-production Young Vic
(2009)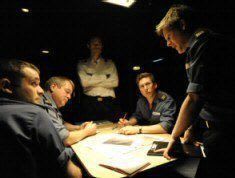 Kursk was the Russian Oscar II class nuclear submarine which was sunk with the loss of all its crew in 2000. It has been claimed that it was not carrying nuclear warheads, but it was carrying nuclear fuel for its reactor. This tragedy, which killed 118 Russian sailors and could have been an even greater disaster, is at the heart of this engrossing production in which the Sound and Fury team of Mark Espiner, Tom Espiner and Dan Jones have worked with writer Bryony Lavery.
Using the whole of the Young Vic's Maria Theatre they invite the audience into the bowels of a submarine, not the Kursk itself but a British one of the Trafalgar class. Though their set does not follow the elongated arrangement of an actual submarine it allows you to either wander through the narrow corridors in the belly of the boat between bunks, showers, heads, mess room, control room, navigator's room, torpedo tubes and other locations to bring you in touching distance of the action or perch around the walls of the theatre to watch it from a fixed perspective. From above you can look down on it all, though at a greater distance.
As submariners rush past you to attend to emergencies you get a strong sense of the proximity in which they have to live for months at a time, their only communication with the outside world a weekly forty-word 'familygram' from their nearest and dearest. Much of the time you are in semi-darkness, only the glow of computer screens and a low light above a particular performer, locating the action. The darkness in which you are enveloped helps to suggest some of the claustrophobic atmosphere - though not sufficiently to be really disturbing unless you are paranoiacly susceptible.
The plot chiefly concerns the boat's mission. This is to spy on a Russian submarine exercise in the Barents Sea and to try to take photographs of the Kursk itself, which means they have to manoeuvre their vessel beneath the Russians. They are first hand witnesses of the disaster. Alongside this major calamity and the British crew's reaction to it, there is also a personal tragedy for one of the members of the crew. Strong stuff, but equally gripping is the way in which we are able to share the daily life of the seamen in this extraordinary environment.
These are men who have to proceed without others knowing they are there, along with the American submarines they know are in the vicinity who also are pretending they aren't there either, and the Russians - ditto. It is a place where every sound is monitored: one man masturbating while wearing a wristwatch could give away their presence. You are never far away from tension, though there is of plenty of humour here too in this insight into other people's lives.
We meet the Commander and four of his crew as they make their final telephone calls to home before departure. They must stand for all those aboard who apparently would probably number as many as the audience. Laurence Mitchell as the Commander, opening his sealed orders and having to make decisions that follow them while keeping his crew operational and in good spirits, makes him understanding but firm, his decisions not made easily.
Ian Ashpitel (himself an actual former submariner) is Donnie Black, a gentle-hearted coxswain who is taking a course in writing poetry - these men need things to fill their leisure. He quotes Auden while in the torpedo chamber and a haiku he writes sums up their situation.
Bryan Dick, as Casanovaken the navigator, is desperately missing his new girlfriend and gets an intriguing punishment from his mates for his masturbatory misdemeanor. Gareth Farr is radio operator Donnie Mac, who has to keep the Commander's secrets. He's not really malicious but the way in which he enjoys baiting Tom Espiner's Mike shows just how edgy things can get when people are pushed for so long into such proximity,. At the same time Farr subtly shows the deep concern that he has to hide from the others on the Commander's orders. Espiner captures the absorption of Mike in every detail of his familygrams about his new born baby daughter, crumbling with no false histrionics when tragedy hits.
These are all fine performances but the high spot for me, voiced by un-named actors from the Maly Theatre, is the actual sinking of the Kursk, I can still hear their dying breaths. Dan Jones has done a terrific job, not just in this sequence but throughout in the way in which he recreates the sounds which continually accompany life on board in an environment where noises may be the throb of another vessel's engine, the bumps and bangs of whales playing football with packing cases or the singing of these great cetaceans. With Hansjörg Schmidt's minimal lighting and Jon Bausor's complex design the Sound and Fury team have created an experience that will be long remembered and Bryony Lavery has constructed a balance of drama, humour and slice of life that holds throughout its 90 minutes. Only at the very end does it falter with a short final image that seemed a little too obvious and too abrupt, though when seem from the upper level it may have been more effective.
This is a show you should not miss. If you aren't able to stand or prop yourself on one of the side ledges for that long without an interval and really do need to sit down, ask whether a chair can be provided for you. There are only a couple available but my elderly and rather frail companion was found one. One of the theatre staff gave us the most kind and courteous attention I have ever met with in many years of theatre going. We were not getting special treatment. She had no idea that I was a critic, or that he was a retired director of plays both in the West End and indeed at the Young Vic itself. Her consideration made it an even more special evening.
At the Young Vic's Maria Theatre until 27th June 2009
Reviewer: Howard Loxton