Kurt Vonnegut: My Lives' Stories
Todd Wronski
Dickinson Theatricals
theSpace on North Bridge
–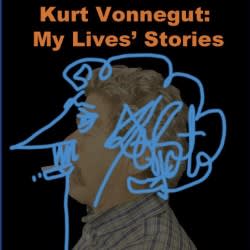 Performed in the style of a lecture, Todd Wronski as Vonnegut scuffs around the stage, recounting wisdom learned through the randomness of his life, and dropping in nuggets of advice, and admissions of how his achievements and failures each built into creating the life he has led.
It's a smart move to have built this performance from the words of the man himself, as the specific peculiarities of his verbiage are unmistakable, and coupled with Wronski's performance, which commits voice, movement and even facial hair entirely to recreating this facsimile of the man.
He creates an entirely plausible sense of being in the room with the writer, and a few minor stumbles and an unfortunate squeak of his shoes in the stage floor made for the only breaks in the illusion.
The result is a fascinating lecture, which manages to wind a spell of charm and deprecating wit over the crowd. It does however, as Vonnegut himself observes, "save the good stuff for the end," which makes the initial opening feel like it lacks a little punch.
Still, it's a fascinating glimpse into the mind and thoughts of the late writer, and a warmly engaging way to pass a little under an hour of quality Fringe time.
Reviewer: Graeme Strachan