Kyoto
David Greig
A Play, a Pie and a Pint
Traverse Theatre, Edinburgh
(2009)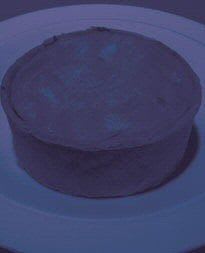 As someone who has recently gone vegetarian (for ethical reasons) and teetotal (don't ask), the Traverse's new lunchtime series, 'A play, a pie and a pint', might seem like a risky prospect. A bad play could see me falling off two wagons simultaneously.
Luck was on my side, not only was there a vegetarian pie, but a really hearty one at that; vegetarian haggis - I can't recommend it enough. As to the play, that was satisfying too, and, like the pie, a nice neat snack that pleasantly filled the lunch hour.
It wasn't just the pies that were steaming: the play opens like a Mills and Boon with Dan (Matthew Pidgeon) sneaking Lucy (Vicki Liddelle) into his hotel room for a passionate night they've been waiting nearly a decade for.
She's a polar scientist; he's a corporate lobbyist; the rest of the climate change conference delegates are in the bar; so far so routine romance. The romantic cliché fades fast as the conversation, not the dalliance, heats up.
Climate change can be a worthy but rather dry subject, in the hands of, say, a nearly US president; the two actors, though, make sure this isn't too heavy a dish for lunch, making the most of Greig's dialogue and getting plenty of appreciative laughter from the audience (possibly assisted by the pints).
There is some good humour involving the other delegates, referring to them always by their country's name and the line about the world being drunk in the bar has a whole host of meanings.
The play is political in its subject, but it doesn't take sides: both characters get to have a say. Dramatically it is more interesting in a way to hear Dan's attack on the pessimism of the green movement. Though Lucy got some equally juicy stuff to get her teeth into too.
With a running time of only 40 minutes, it wasn't going to change the world, but the relationship played out well with both characters coming alive, not just two-dimensional debaters but sparring on flirting on a human level.
The intimacy of the piece in the stark hotel room where the lighting has failed gives this an at times uncomfortable feel, but very much drawing the audience in. I'm quite thankful to Greig for letting in humour at the right points to diffuse the tension.
If you work in the centre of Edinburgh then you should consider heading to the Traverse to get some real nourishment in your lunch-break. There is a different short play each week, but I'm hoping they keep the vegetarian haggis pie an option for all of them.
"Kyoto" runs until 21st March 2009
'A Play, a Pie and a Pint' runs Tuesday to Saturday until 18th April 2009
Reviewer: Seth Ewin