Crying Out Loud presents l'Après-midi d'un Foehn - Version 1
Phia Menard
Compagnie Non Nova
Summerhall
–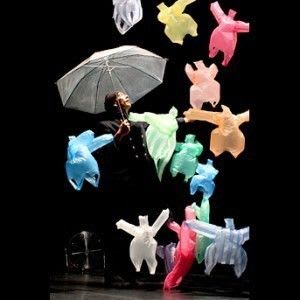 Although listed in Summerhall's children's programme, this is a truly universal show, it's accessible to anyone regardless of age or language barriers, artistic interests or even attention spans (it is only 25 minutes long). It is just one tiny, beautiful spectacle that you could call a dance or a kind of puppet show.
To the music of Debussy's L'après-midi d'un Foehn, a collection of plastic bags, augmented into human shapes, perform a kind of ballet. All achieved, as if by magic, through the judicious use of a series of fans and a straight-faced manipulator Jean Louis Ouvrard.
There is no need to describe in detail the show and anyway it would detract from the experience and it really should be experienced, whether you bring children or not. Do however bring a child's openness and undimmed imagination.
The bags soar, they fly around Ouvrard like pigeons round a man with feed, they display so many little lifelike quirks. Should one search for meaning? Is this about the environment, our messy rubbish creating world or simply looking for beauty everywhere.
This is a piece that can be anything you want it to be. Most importantly though it is a piece you can simply sit and take in, enjoy the strange elegant moment in the room, enjoy Debussy's music, enjoy this burst of pure unreserved creativity.
Reviewer: Seth Ewin