L'Elisir d'Amore
Gaetano Donizetti, libretto by Felice Romani
Met Opera on Demand
Metropolitan Opera House, New York
From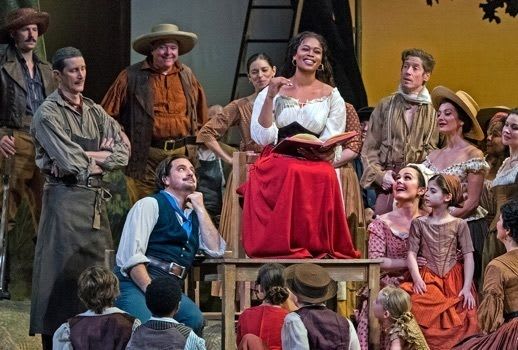 Gaetano Donizetti wrote 68 operas in 27 years. L'Elisir d'Amore, the most melodious of romantic comedies, was written at speed and premièred in Milan in 1832. It has a lot of heart and lots of coloratura and was the most frequently performed of all his works during his lifetime. This production, directed by Bartlett Sher and conducted by Domingo Hindoyan, was seen at The Met in New York in 2018.
Love is a delicate business when a girl has to choose between a hapless moron and a swaggering pest. Dumbo Nemorino (Matthew Polenzani) is in love with beautiful, feisty Adina (Pretty Yende) and thinks Adina should be in love with him. But his love is unrequited. She is in love with an arrogant sergeant with a moustache (Davide Luciano).
Yende's Adina, with a big radiant voice and a big radiant smile, admits she is too fickle to deserve the love of a decent man. Nemorino may be not very bright but he's a nice guy and he's absolutely heartbroken and it hurts.
Like the rest of the village, he is completely duped by an itinerant quack doctor (Ildebrando D'Arcangelo) into buying a bottle purportedly containing the elixir of love. It's actually a bottle of cheap Bordeaux and Nemonio gets very tipsy.
When the girls in the village learn that he has inherited a fortune, all of them fall instantly in love with his money. He, not knowing about his inheritance, thinks the potion is working a treat and that they all love him for himself. Poor fool.
Polenzani's naïve and vulnerable Nemorino is an endearing little-nobody act and his ever-popular, show-stopping aria, "una furtiva lagrima", predictably stops the show.
L'Elisir d'Amore gets a pretty, tuneful, sexually innocent and totally old-fashioned production from Bartlett Sher. What it actually needs is much more comic invention.
There are a number of ways of tapping into this opera and others at will. The Met Opera on Demand service offers annual ($149.99) and monthly ($14.99) subscriptions as well as a one-off payment ($4.99) for those who have limited time or only want to watch the occasional opera.
Reviewer: Robert Tanitch