L'Elisir d'Amore
Gaetano Donizetti (music), Felice Romani (libretto)
Opera North
The Lyric Theatre at The Lowry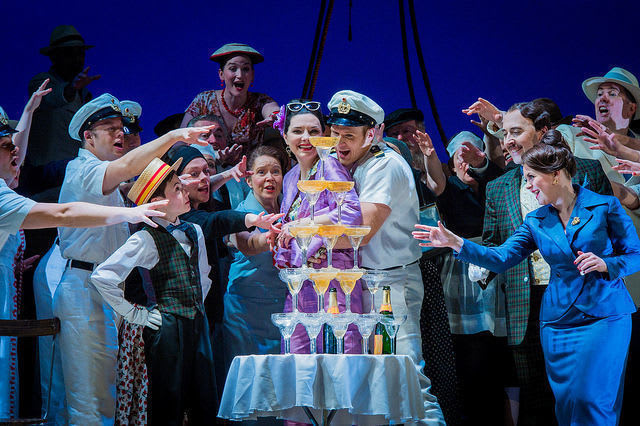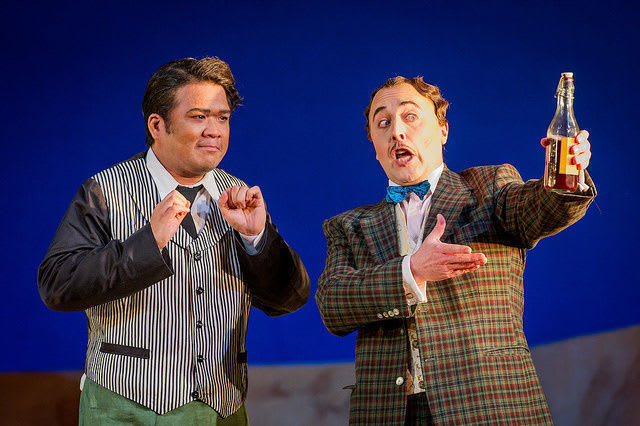 Nemorino is a mopey, apparently prospect-free young man, hopelessly in love with Adina, a woman who'd rather read a book that waste her time talking to him. It seems like the last thing he needs is some quack called Dulcamara ("Dr Encyclopaedia" to himself) to come floating in by balloon and take his very last penny in exchange for a dodgy "love potion" (a bottle of wine from the bargain bin).
However, love moves in mysterious ways (especially in opera) and before long, every female in the village is finding Nemorino irresistible. Is cheap Bordeaux really the elixir of love? Or might Nemorino's sudden outbreak of sex-appeal have something to do with the death of his wealthy uncle and an inheritance of which he (and the light of his life) have yet to hear?
The apparent withdrawal of Nemorino's adoration is enough to ignite a passionate longing in the heart of the beautiful Adina. Could it be that she will call off her engagement to the boorish Belcore and ensnare Nemorino by applying her own, special "elixir"?
Daniel Slater's production of Donizetti's L'Elisir d'Amore seeks to make the most of the opportunities for fun and frivolity. It's a great success.
At the centre of events, Richard Burkhard's dextrous, energetic, and dapper Dulcamara is a delight from entry to exit (each via balloon—perhaps a nod to that other quack with a heart, the Wizard of Oz). The plates of this production spin around him and he never lets one drop.
Duncan Rock's Belcore and his crew (they're sailors in this production), turn up on silver scooters (this is Italy, after all). Belcore's mean machine even has a secret panel for storing a small bouquet of flowers (with which he immediately sets about wooing Adina). This Belcore is ridiculous and impressive in equal measure; bullying with relish while bulldozing his way into women's affections.
The desirable Adina (played here by Gabriela Istoc) sashays through the crowd with elegant disdain, only faltering when her affection for Nemorino overwhelms her (comedy or no, Istoc's portrayal of the joy of new love is some of the best acting I've seen in an operatic production for a long time).
It takes a little while for the audience to warm to Jung Soo Yun's Nemorino but, by the time he delivers a rather beautiful and tender rendition of Una Furtiva Lagrima, he has us. As with Burkhard, his enthusiastic final ovation is well-deserved.
Robert Innes Hopkins has designed a bright, clear set which could well be the terrace of a swish hotel on the Amalfi coast—blue skies, attentive waiters, plenty of tables and, no doubt, on the other side of that wall, a fabulous view of the sea. Can I book a couple of weeks in late August, please? Costume-wise, we are in the stylish world of 1950s Lambretta-life. Lovely. (By the way, that's Lambretta not Lambrusco. When in Italy, always know your classic scooters from your not-so-pricey wine).
Two other names to acknowledge in this highly enjoyable production are choreographer Tim Claydon and chorus master Martin Pickard. Opera North's chorus is consistently in excellent voice and often (as tonight) an active participant in the action. While the clever and varied reactions of the crowd to the arrivals of first Belcore and then Dulcamara are a pleasure to the eye, the "seductive" antics of the well-sozzled women, on hearing of Nemorino's inheritance, are absolutely hilarious—take a bow one and all.
A night out with Opera North's L'Elisir d'Amore? It's a holiday in itself.
Reviewer: Martin Thomasson