L'Orfeo
Music by Claudio Monteverdi, libretto by Alessandro Striggio
Teatro Alighieri
Teatro Alighieri, Ravenna, Italy
From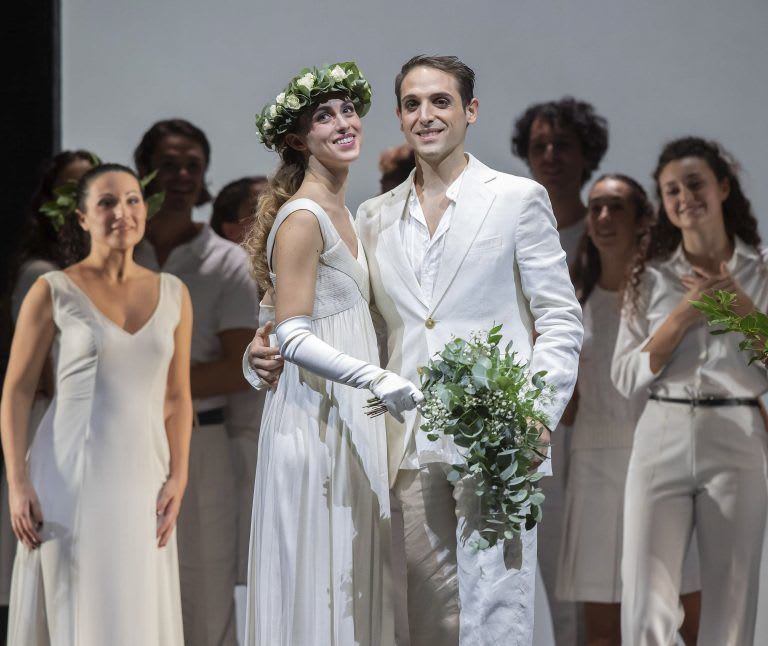 The legend of Orpheus and Eurydice has inspired so many artists, not least Monteverdi whose L'Orfeo premièred in 1607 at Palazzo Ducale in Mantua, Italy and is regarded as the first great opera.
Pier Luigi Pizzi's very enjoyable modern dress production, conducted by Ottavio Dantone for Teatro Alighieri in Ravenna, was streamed live on 6 November 2021.
The orchestra is on stage and part of the performance; the singers interact with the period musical instruments. The production, elegantly artificial, is stylized in black and white but the emotion, beautifully sung, is always very real.
The opera opens with the celebration of the marriage of Orpheus (Giovanni Sala) and Eurydice (Eleonora Pace), who are surrounded by their friends. There is a lot of reaction and physical contact. The chorus is never static for long and sit, stand and mill around in decorative groupings which creates a happy and loving atmosphere. Some of the young nymphs and shepherds are dressed for tennis.
The joy is shattered by the arrival of the Messenger (Alice Grassi, a tragic figure in her own right) with the news that Eurydice is dead. Orpheus expresses his agony in a great lament, a tour de force by Giovanni Sala.
The lighting by co-director Massimo Gasparon plays a key role. The transition from bright to gloom is instant. Hades is not a place. It is a darkness which envelopes everybody and everything. The spirits are dressed in black burkas and surrounded by ghostly mist.
The opera is about the power of music to soothe and enflame anger and love. Orpheus is checked on his journey to Hades by Charon (Mirco Palazzi), a sombre silhouette, powerful in presence and voice. Orpheus wins him over by the virtuosity of his singing, another tour de force by Giovanni Sala.
Teatro Alighieri's production of Monteverdi's L'Orfeo can be watched free on the Opera Streaming channel.
Reviewer: Robert Tanitch