La Bohème
Giacamo Puccini
English National Opera
London Coliseum
–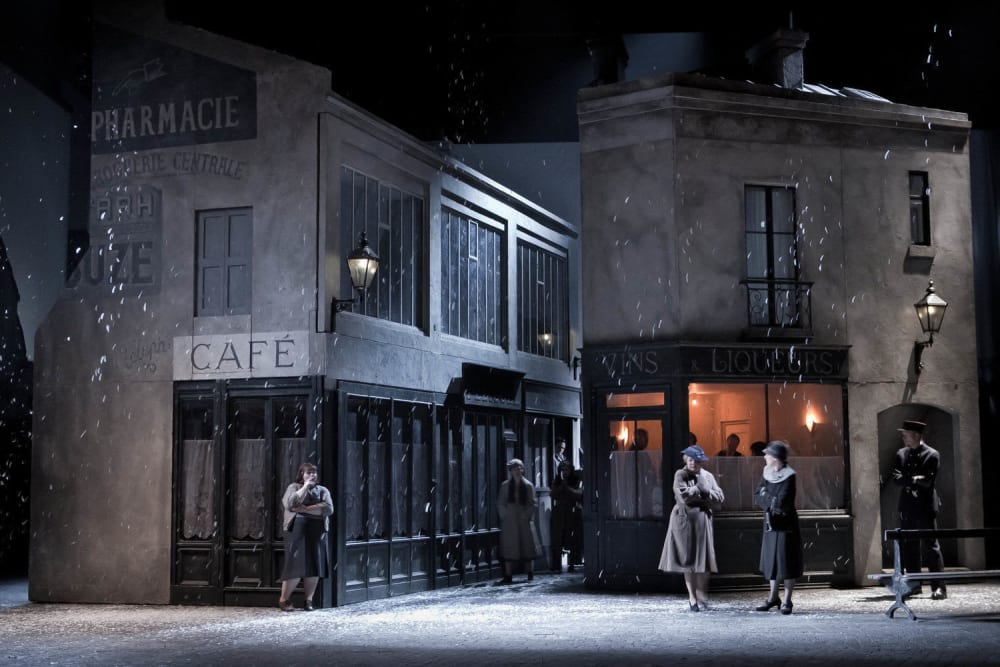 First staged in 2009, Jonathan Miller's La Bohème is quickly becoming cemented as an classic jewel in ENO's crown.
Updated to the 1920s, a gaggle of Bohemians live hand-to-mouth in the Parisian fringe. The stage is filled with a two-storey building; the upstairs room is the boys' flat—four bodies squeezed in garrison-style, paints, poetry and all.
It's Christmas Eve and, having evaded paying the landlord yet again, the power cuts out. Plunged into darkness, Rudolfo (Gwyn Hughes Jones) meets the fragile beauty that is his neighbour, Mimi (Kate Valentine), in her quest for candlelight. In true operatic fashion, it is love at first sight, but her failing health means this is tale that can only end tragically.
The cleverly-constructed set twists and turns, realigned as a Parisian Bistro, then again into alleyways with fun seen bathed in the warm yellow glow through café windows. With the grey lights of dawn and dusk and sprinkling snow in act three, the evocative staging transports the audience to the cold but distinctly beautiful world of 1920s Paris—a parallel of the Bohemian's lifestyle.
Amidst this world, the leads swagger, shiver and sing. All command the stage with strong characters and an energetic presence, but it is Marcello (Richard Burkhard) who steals the show. His marvellous technique and rich tone is accompanied by an innate musicality with charm, peppered with passionate fits of jealous rage against Musetta. Duncan Rock (Schaunard) also sparkles; an easy stage presence and commanding voice means this is a young singer with a name worth remembering.
The show takes a while to settle, with the first half seeing many inconsistencies between orchestra and soloists, appearing slightly under-rehearsed. Under Oleg Caetani's baton, the orchestra ekes the tender agony and passion from the Bohème score, though does tend to drown the singers at climatic moments in the first half.
Hugh Jones and Valentine seeming a little off form doesn't help this, but the pair return after the interval much stronger vocally. The extremely confident chorus on the other hand inject life and lustre with an outstanding children's chorus. Nipping around the stage and chasing the toy peddler Parpignol, they add to the richly layered tapestry of Miller's production.
Angel Blue concocts a feisty Musetta, even more self-obsessed than normal, but at times her voice is lost. In act 4, Rudolfo and Mimi's duets finally rise to the heights deserving of this wonderful opera, Valentine's ripe lyric tone gripping the audience amongst Hugh Jones's anguished cries.
This La Bohème revival, admirably directed by Natascha Metherell, has lost none of the charm of its first outings, but worryingly last night the production largely wowed more than the stars. The consistent improvement throughout the show does suggest an element of first night glitches, which will hopefully smooth for the rest of the run to show this Puccini masterpiece in all its glory.
Reviewer: Louise Lewis