La Cage Aux Folles
Music and lyrics by Jerry Herman, book by Harvey Fierstein, based on the play by Jean Poiret
Bill Kenwright Ltd
Grand Opera House, York
–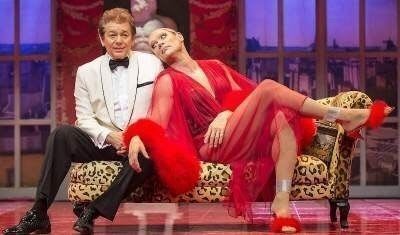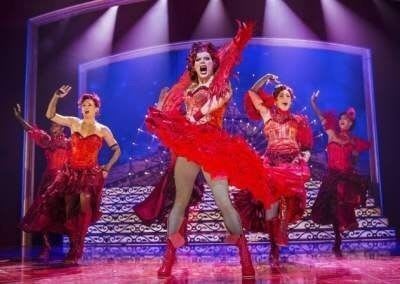 A musical about the relationship between two middle-aged gay men—one of whom is also a female impersonator—may not sound like the most obvious recipe for Broadway success, particularly during the dark days of the AIDS epidemic in the early 1980s. Nevertheless, La Cage Aux Folles was a huge hit when it arrived in New York in 1983, winning rave reviews and scooping six Tony Awards.
Set in glamourous, sun-drenched Saint-Tropez, the show tells the story of Georges (Adrian Zmed) and Albin (John Partridge), a gay couple who have been together for over twenty years. Georges runs an infamous drag nightclub, La Cage Aux Folles ("The Birdcage"), where Albin performs every night as the glamorous Zaza.
Together, Georges and Albin have brought up a son, Jean-Michele (Dougie Carter), who plans to marry his beloved, Anne (Alexandra Robinson). Unfortunately, his intended's parents (Paul F Monaghan and Su Douglas) are religious conservatives who strongly disapprove of homosexuality. What will happen when the two sets of parents meet?
There are many reasons to admire La Cage Aux Folles, but perhaps what makes the show so popular with audiences is its huge, beating heart. Broadway legend Harvey Fierstein took Jean Poiret's original 1973 play and replaced its farcical elements with something altogether warmer and more human.
Albin is one of the most demanding roles in all of musical theatre, and it is played to the hilt by John Partridge. He is outstanding. Many people will recognise him from his long stint on EastEnders, but he has been acting in musicals since he played Rum Tum Tugger in Cats at the tender age of 16.
Partridge vamps it up in grand style as Zaza, heckling members of the audience with ferocious glee and belting out songs with gusto. Despite being leaner and meaner than other actors who have played Albin in the past, Partridge skilfully conveys the character's vulnerability, particularly during a powerful rendition of "I Am What I Am" at the end of the first act.
The show may be dominated by Partridge, but there are also some lovely turns from the supporting cast. Adrian Zmed—most famous for playing a rookie cop on T J Hooker—makes for a sweet and charming Georges, and demonstrates a fine set of pipes. Marti Webb is great fun as sassy local restauranteur Jacqueline, and comes close to stealing "The Best of Times" from under Partridge's nose. Dougie Carter shines as Jean-Michele, particularly during his first act solo.
Partridge is not the only one bringing the glamour. Samson Ajewole is in scene-stealing form as Jacob, the flamboyant maid who desperately wants to be on stage, and there is energetic dancing courtesy of Les Cagelles, played by Richard Leavey, Matthew Ives, Louie-George Daniels, Jordan Livesey, Oliver Proudlock-John, Brian ó'Muirí and Luke Byrne.
Jerry Herman's well-crafted songs still hold up well, particularly "I Am What I Am" and "The Best of Times", both of which are defiant and joyful. Harvey Fierstein's book is filled with sharp one-liners, but manages to be family-friendly. Indeed, only the most vehement homophobe could be offended by La Cage Aux Folles.
Like Priscilla, Queen of the Desert, one of the great pleasures of La Cage Aux Folles is the weird and wonderful outfits worn by the drag queens. Gary McCann's costumes are spectacular—a riot of sequins, glitter and feathers. Equally impressive are his set designs, particularly the main stage of the nightclub, which serves as a sparkling catwalk for Zaza.
There were a few moments where I felt the pace dragged slightly, but overall I was hugely entertained by Martin Connor's production. La Cage Aux Folles is a funny and heartfelt show with some wise words to share about love and acceptance.
Reviewer: James Ballands