La Cage aux Folles
Music and lyrics, Jerry Herman; book by Harvey Fierstein
Bill Kenwright
Lyric Theatre, Lowry
–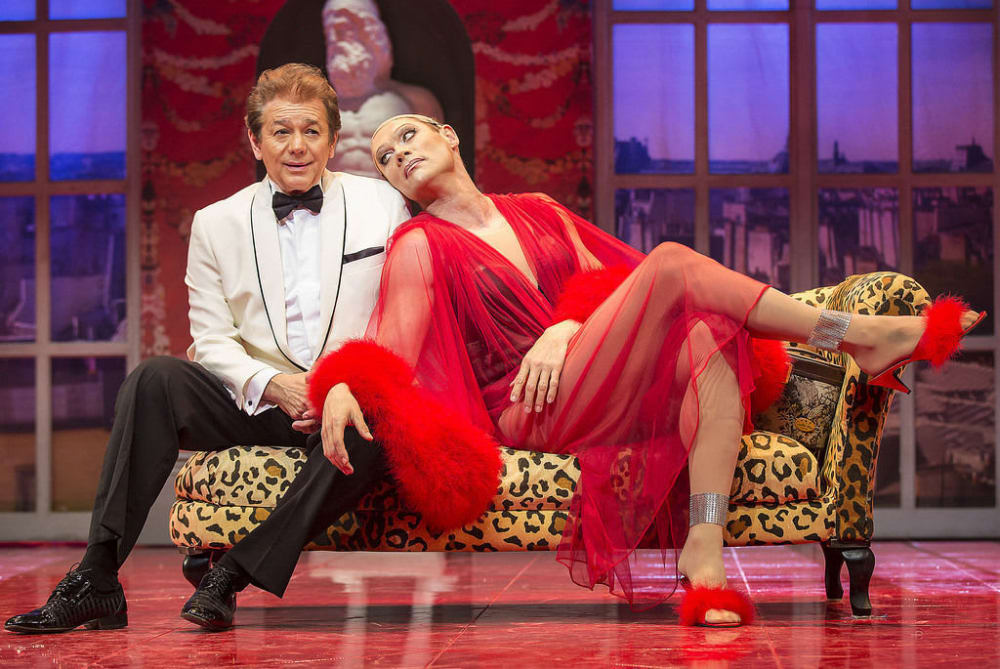 First meetings between prospective in-laws are loaded with opportunity for awkward moments, misundertandings and clashes of values. The potential for friction is bound to heighten when the father of Anne (Alexandra Robinson), the bride-to-be, is Dindon (Paul F. Monahan) a bullying, reactionary politician. Fortunately, the parents of her fiancé, Jean-Michele (Dougie Carter), are the amenable and dapper Georges (Adrian Zmed) and his charming, if slightly showy, wife. The aspiring groom's parents live in a modestly decorated apartment, featuring a large crucifix and a picture of a supplicant monk. Such a shame the apartment has to be right next door to a drag club - one of the very dens of iniquity Dindon has sworn to close down, as soon as he is elected.
While Jean-Michele's mother might be a little less demure than Anne's downtrodden parent, Marie, her ability to book them all a table at Chez Jacqueline, the best restaurant in town, smoothes over any potential ruffles. All will surely go well.
Of course, we know that it can't possibly go well, given that in truth, Georges is the owner and compere of the drag club next door, while his "wife" is actually Albin, his husband of twenty years and, under her stage name of Zaza, renowned drag queen and star of the nightly cabaret at La Cage aux Folles.
Yes folks, La Cage is a simple of tale of boy meets girl, in which boy's "mother" is a six foot, raging drag queen, girl's father a homophobic pig, running on a 'shut down all the drag clubs' ticket.
At base, this tremendously popular show, revived here with garish splendour, is a farce; albeit a farce with a sincere message at its heart, memorably encapsulated in La Cage's totemic anthem: "I am what I am".
Adrian Zmed's Georges opens with a cordial welcome, and has his fair share of good lines: 'Some old friends, some new faces; some old friends with new faces'. Georges has a second violin role, but its a role Zmed plays with love and conviction - we never doubt that he's spent two decades in love with the same temperamental but sparkling man. Whilst sustaining the pace and energy, and encouraging repeated breaking of the 4th wall, director Martin Connor never forgets that this enduring relationship lies at the heart of the story.
Marti Webb, as Jacqueline, gets a hearty reception from the audience and shows that the old pipes still have plenty of blow in them. Samson Ajewole camps it up with relish as Jacob, the butler who would look right at home on a basketball court, were his uniform of choice not that tiny french maid's outfit.
The girls (boys) of the chorus, fabulously bedecked in (faux) furs and sequins, produce twirls and kicks that would be right at home at the Folies Bergère; credit to Bill Deamer's choreography. Set and costume designer, Gary McCann and wig and make-up designer Richard Mawbey have clearly gone nip and tuck over which of them is having most fun.
The success of any production of La Cage rests heavily on the shoulders of whoever is cast as Albin. The Tuesday evening Lowry crowd isn't hostile, but a little slow to warm up, and it isn't until John Partridge breaks off from the "La Cage aux Folles" number to have a "chat" with us that he really takes command and draws the audience to his bosom, as it were.
Growing up in the vicinity of Manchester in the era of Foo Foo Lamarr and Bunny Lewis, I've long thought that politicians should take lessons from drag artists; not necessarily in fashion (though, why not?), but in improvising around a set routine and getting a crowd on board. Partridge's wit and warmth soon put a flame under this lukewarm audience, and they're never undercooked from this interlude onwards. He clearly revels in such interaction (brassy but affectionate) - there's a particularly lovely exchange when an audience member "accused" of wearing Per Una pleads guilty as charged.
From this point forward, the crowd is his and his performance blossoms - think Julian Clary, Lily Savage and Quentin Crisp rolled up, toned up and supremely dolled up. Never a mere jester, Partridge delivers the pathos when required, and sings with great gusto, too. Little wonder that, by curtain call, he looks tired and emotional (but deservedly happy).
More than thirty years on from its premiere, a smattering of fine songs, impressive routines, smart lyrics, sassy dialogue, audience rapport, moments of genuine pathos and costumes to make many a heart take wings, mean La Cage aux Folles is still a hot ticket. 
Reviewer: Martin Thomasson