La Cage Aux Folles
Harvey Fierstein, music and lyrics by Jerry Herman
Bill Kenwright
New Victoria Theatre, Woking
–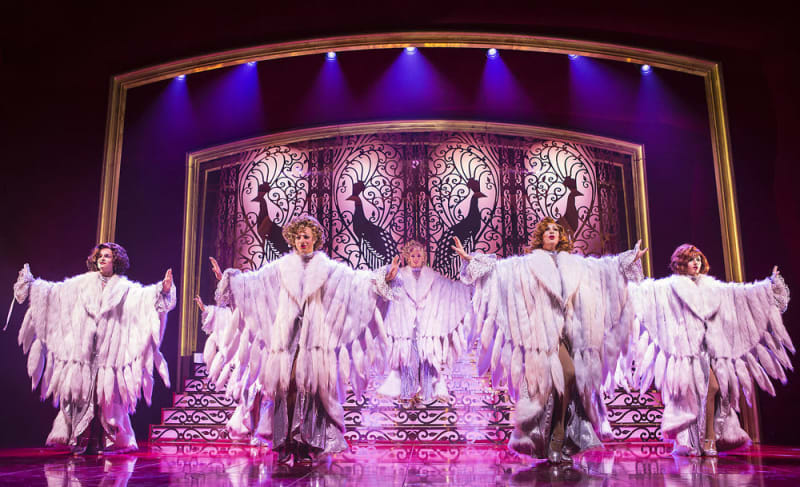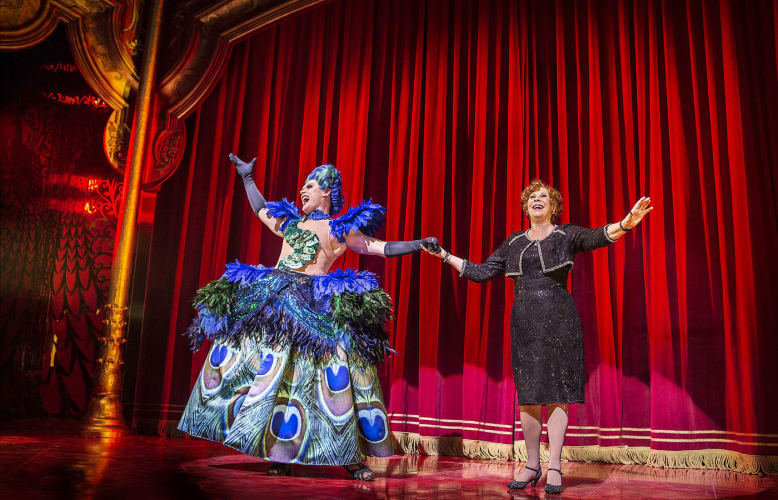 La Cage Aux Folles began life in 1973 as a French play written by Jean Poiret. In 1983 it became a multi-award-winning Broadway musical and it's been going strong ever since playing to packed, and very enthusiastic, audiences and winning even more awards along the way.
It tells the story of Georges, the manager of a gay night club / theatre (where seven drag queens strut their funky stuff nightly) and Albin, his lover and the star of the show—two gay men who have been living happily together for over 20 years bringing up George's son.
Their troubles begin when the son, Jean-Michele, wants to marry Ann, the daughter of two very Puritanical parents, and they wish to meet their prospective in-laws. The accoutrements of George's apartment have some very interesting features, particularly the novel method of switching on the wall lights, but not suitable for censorious eyes.
A hasty, but rigorous, 'spring clean' by Jean-Michele effects a transformation, but how on earth are they going to explain Albin who is not at all happy at their arrangements and, being a bit of a maverick, goes about things in his own way.
This is a real razzmatazz of a show, flamboyant, excessive and exciting, with Jerry Herman's score, played with great feeling for the nuances of the story by Tim Whiting's seven-piece orchestra, but it is also a tale of love and support within a family, whether with conventional parents or otherwise, and it's a show which has probably (hopefully) changed many homophobic attitudes over the years.
Bill Deamer's choreography is always a joy, particularly a very fast exciting tap number which is perfectly executed even by men in six-inch heels. The set (Gary McCann) is very opulent for the theatre, stylish for the apartment and morphs seamlessly into a street scene with just the addition of a table and two chairs, but it is the costumes which amaze with their infinite variety and excessive extravagance, from fans and feathers to the brilliantly red dresses for the can-can, leading to Albin's comment that backstage is "just like Black Friday at Primark".
John Partridge's Albin has his starring moment parading the stage as he harangues the conductor and the front rows of the audience with bitchy comments about their appearance or clothes sense, yet he can sing "I Am What I Am" so soulfully and wistfully, wanting to be accepted and understood, that it brings tears to the eyes. Two contrasting sides to the same character and a great voice to deliver the song.
Adrian Zmed gives Georges a very warm and loving personality and is in fine romantic voice for "With You on my Arm" and "Song on the Sand", while Marti Webb as Jacqueline trips lightly through all the chaos saving the day at the end and joining Albin and the Company in "The Best of Times".
I loved also the crazy antics and ever more flamboyant costumes of Samson Ajewole as Jacob, the butler who insists he is a maid but never does any cleaning.
At the end, the whole audience, almost as one, rose to their feet in a cheering standing ovation that says it all.
Reviewer: Sheila Connor