La Cenerentola
Gioachino Rossini, Libretto by Jacopo Ferretti edited by Alberto Zedda
Glyndebourne Opera
Glyndebourne Opera
–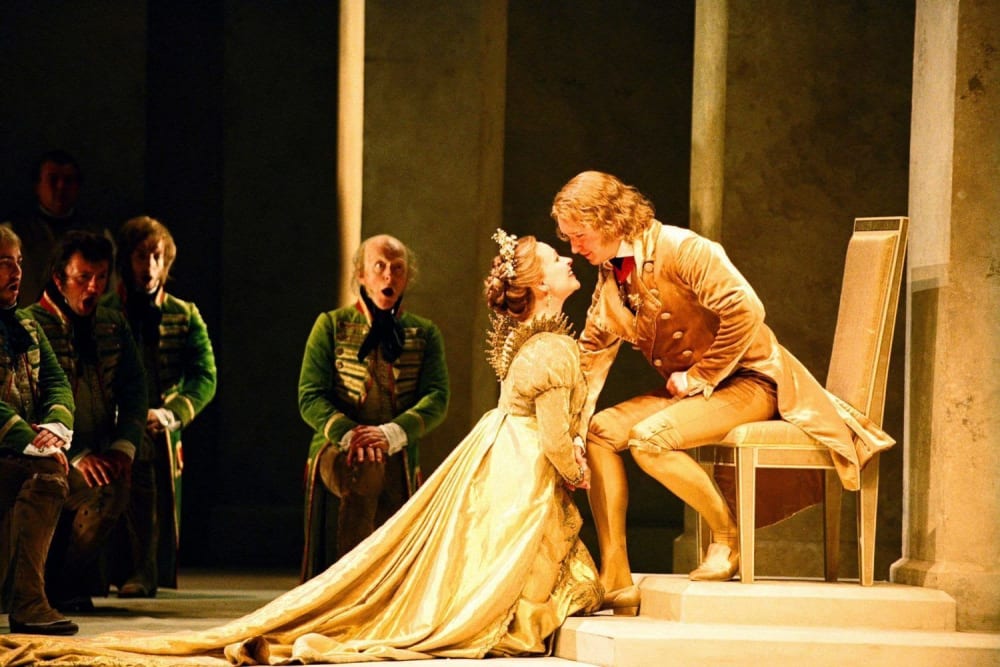 Theatres are closed. There are no pantos this Christmas. Andrew Lloyd Webber's musical has been postponed until 2021. But wait, you can still watch Cinderella online if you are quick. You have until Monday, January 4 or, failing that, buy the Blu-ray.
Gioachino Rossini's La Cenerentola premièred in Rome in 1817 when he was 25. It is a delightful comic opera, made even more lively by bravura coloraturas and great sextets. The music sparkles. You can tell the score is by the composer of The Barber of Seville which had premièred the previous year. It sounds so good.
Forget Charles Perrault and the Brothers Grimm. There's no pumpkin turning into a coach. There's no ball, no glass slipper. There's no cutting of heels and toes and no blinding. Prince Ramiro swaps role with Dandini, his valet. Dandini pretends to be the Prince and Ramiro pretends to be his Equerry. They both fall in love with a kitchen maid.
Peter Hall's production, designed by Hildegard Bechtler, was seen at Glyndebourne in 2005. Vladimir Jurowski conducts the London Philharmonic Orchestra.
Cinderella is the sort of girl who wants respect, love and kindness. She gets the husband she deserves. The Prince (Maxim Mironov) is as dull as she is. Her generosity to her sisters is fairy-tale nonsense. Ruxandra Donose, going from ashes to throne, is completely transformed from drudge to queen in her florid finale.
There is no stepmother in Rossini. There is a Baron instead; he's a big ninny who needs a wash. Luciano di Pasquale plays him for the opera buffa clown, donkey, ass and nasty bully he is; and very funny he is, too.
I remember seeing Julian Clary as Dandini in Richmond, Surrey, and Dandini became the lead role, completely upstaging everybody, including Prince Charming. Simone Alberghini, a natural comedian, with plenty of charisma, completely upstages the colourless Mirinov. Alberghini and di Pasquale make a good comic double act.
The Ugly Sisters are traditionally played by men in drag. Here they are played by women. Raquela Sheeran, Lucia Cirillo are not ugly; they are jealous. They act their roles for comedy not pantomime.
There is no Fairy Godmother in Rossini. Instead, there is a philosopher, the Prince's tutor. Played by Nathan Berg, he makes an impact; but who he is and what he is doing remains unclear.
The brilliant "tangled web" sextet, is wittily sung and choreographed. 200 years on, Rossini's Cinderella remains one of the best Cinderellas. Peter Hall's production, high-spirited, elegant and funny, is very enjoyable. It's a perfect Christmas treat for the whole family.
Reviewer: Robert Tanitch