La Cenerentola
Gioachino Rossini, libretto by Jacopo Ferretti
Met Opera on Demand
Metropolitan Opera House, New York
From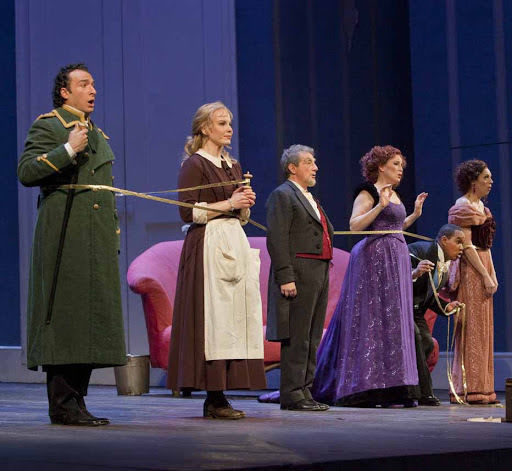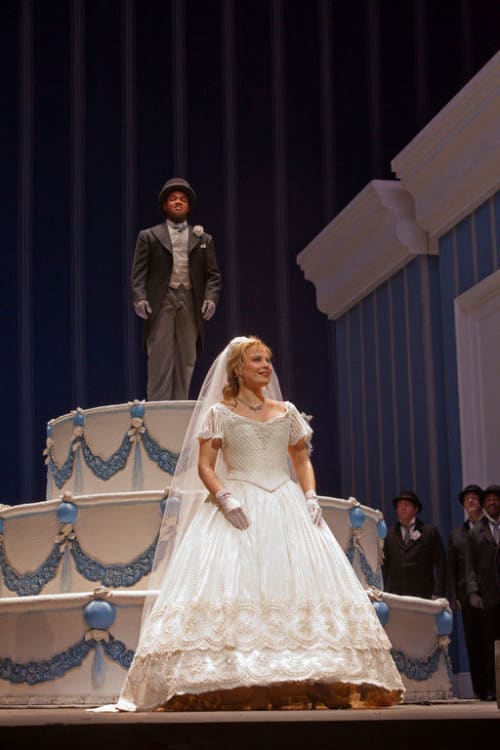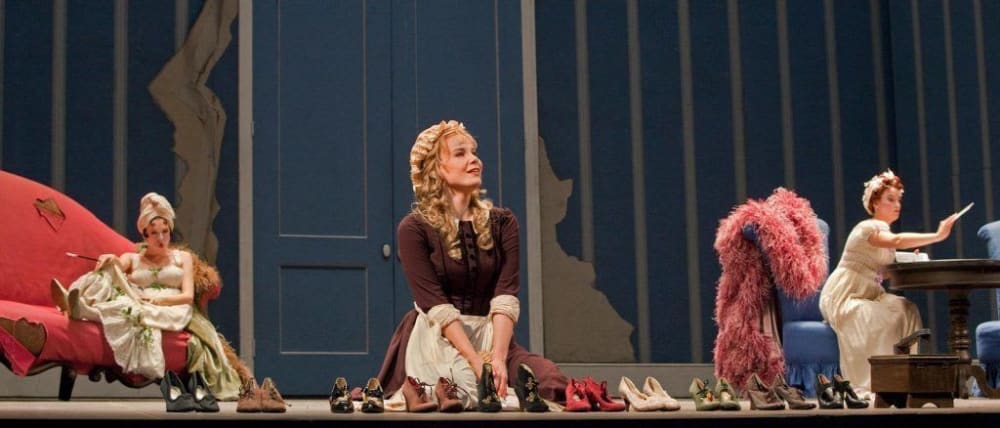 Gioachino Rossini's version of Cinderella, written when he was 25 years old, was seen in London in 1820 and has little to do with either Charles Perrault or the Brothers Grimm.
You are in for an evening (or matinée) of sparkling music, bravura coloratura and farcical confusion. This production, directed by Cesare Lievi and conducted by Maurizio Benini, was seen at The Met in New York in 2009 and there are plenty of surprises.
There's no fairy godmother. No pumpkin turned into a coach. No mice turned into coachmen. No pony. No midnight curfew. Not even a lost glass slipper. No Buttons. No wicked stepmother. The sisters are cruel and nasty but they are not ugly. They don't look like your normal pantomime dames. They are played by women who behave like drag queens. They don't cut off their toes and heels and they don't get their eyes pecked by birds. Instead, Cinderella begs the Prince to forgive them.
The Prince has to get married and he is looking for a wife and queen. He calls on Don Magnifico to see if his daughters are suitable. The twist is the Prince has swapped roles with his valet, Dandini; and, in his role of valet, he immediately falls in love with Cinderella, presuming she is Magnifico's servant, not his stepdaughter.
Elīna Garanča as Cinderella cuts a pathetic figure when she begs to be allowed to go to the ball. The scene is played far more seriously than you would expect. The longer the opera goes on, the more confident Cinderella becomes and the more florid Garanča gets.
The role of the Prince requires a singer who can carry off the vocal fireworks in act two. Lawrence Brownlee looks good casting for a valet; but, when he has to be a Prince, he still looks like a valet. He's also the wrong height for Garanča Cinderella and they look physically awkward together. Alessandro Corbelli as Don Magnifico delivers the comic patter at speed and he and Simone Alberghini, who plays Dandini, have a lot of fun musically.
You may wonder why on earth the Prince's knights are wearing black suits and bowler hats and looking like Magritte clones. The huge wedding cake, however, which fills the stage in the final scene raises hopes we might be in for a classic Busby Berkeley Hollywood pastiche musical number, but sadly this does not happen.
There's a wonderful quintette, full of incredible energy and, as if that is not enough, Rossini then tops it with a wonderful sextet of confusion which is vocally even more energetic. The latter is one of the great moments in Rossini's operas and Cinderella is worth seeing just to hear this rondo. The exhilarating rapid-fire delivery it gets from this cast is truly thrilling.
There are a number of ways of tapping into this opera and others at will. The Met Opera on Demand service offers annual ($149.99) and monthly ($14.99) subscriptions as well as a one-off payment ($4.99) for those who have limited time or only want to watch the occasional opera.
Reviewer: Robert Tanitch