La Damnation de Faust
Hector Berlioz
Met Opera on Demand
Metropolitan Opera, New York
From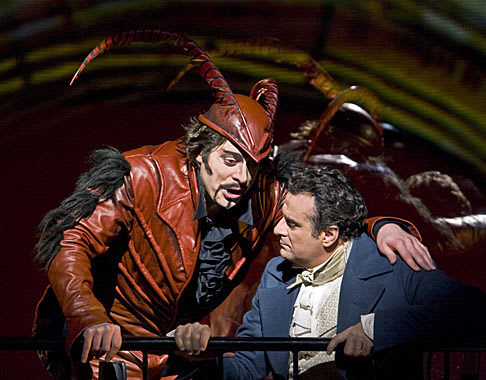 Berlioz' La Damnation de Faust is not an opera, rather a secular oratorio (or dramatic legend as the composer fashioned it) never intended for production. There have been numerous attempts to stage it, however, some more successful than others and Robert Lepage's from the Met in 2008 must rank among the hits.
Terry Gilliam brought all of his cinematic vision to bear on it at English National Opera in 2011. Not everyone liked it, especially for its excessive use of Nazi imagery, but it was undoubtedly a tour de force that really brought what can be a dramatically inert work to startling life.
Lepage has similar vision and a constant urge to experiment which leads often, and in this case, to a thrilling performance. He fuses state-of-the-art technology with mid-19th century costumes and it's a winning combination. Susan Graham, in her pre-show introduction, explains that the video images are triggered by the movement, sounds and even body heat of the singers, so the visuals are different every night. Without seeing more than one performance, it's difficult to know how different it can be so we have to take that on trust.
The set is a grid of boxes that give a flat background, almost like the panels of a medieval altarpiece. At certain times, such as the bustling inn scene, each box has a beautifully fashioned living painting enacted within it.
James Levine has a particular affinity with this score and he delivers a thumping and often thrilling performance from the Met orchestra, from the driving Racokzy March in the first few minutes to the thundering ride and descent to hell at the end.
Marcello Giordani's big Italian sound isn't the most obvious choice for Faust but it works well and he handles the fiendlishly high notes, for the most part, in his stride. Susan Graham is spectacular in the French repertoire and her creamy mezzo is perfect for the role of Marguerite. It makes you wish there were more for her to do.
Canadian bass-baritone John Relyea has an established line in devilish figures (including Gounod's Mephistopheles and Nick Shadow in Stravinsky's The Rake's Progress, which he did memorably at Covent Garden some years ago). His Mephisto here is of the obvious boo hiss kind but it's highly effective.
The chorus, who carry so much of the weight of the work, are on top form, nowhere more than in Marguerite's apotheosis which ends the performance. All told, it's a great evening of theatre and music-making.
In case you haven't tuned into it yet, the Met's web site is streaming a nightly opera for free, and it is available until 6:30PM EDT the following day. After that, there are a number of ways of tapping into this opera and others at will. The Met Opera On Demand service offers annual ($149.99) and monthly ($14.99) subscriptions as well as a one-off payment ($4.99) for those who have limited time or only want to watch the occasional opera.
Reviewer: Simon Thomas