La Donna del Lago
Gioachino Rossini, Libretto by Andrea Leone Tottila
Met Opera on Demand
Metropolitan Opera House, New York
From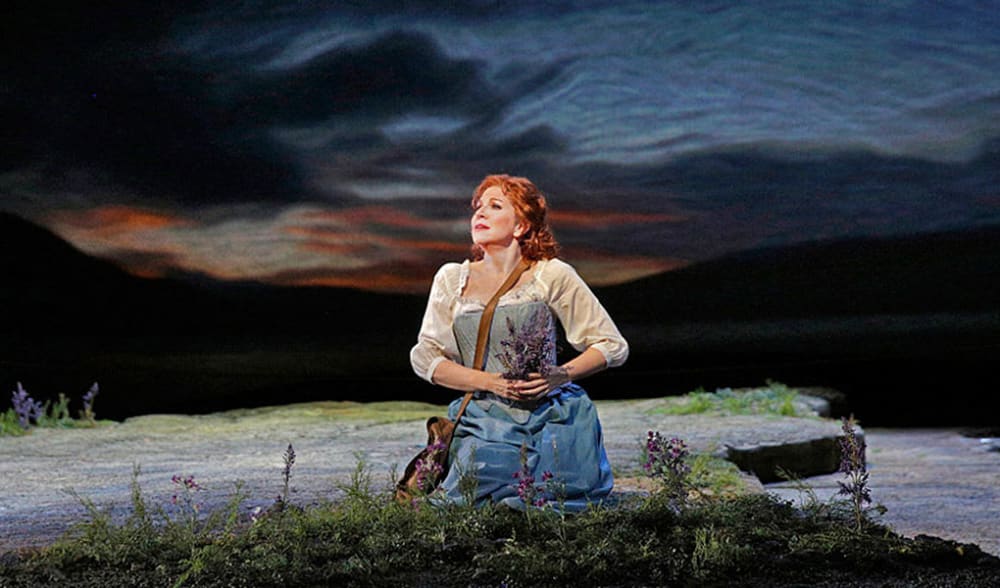 Gioachino Rossini's opera premièred in Naples in 1819. It is an adaptation of Walter Scott's narrative poem Lady of the Lake, which had been published in 1810 and staged practically immediately at Covent Garden.
Scottish highland romances were soon all the rage in Europe and Scott would inspire many composers. La Donna del Lago is the most romantic of all Rossini's Italian operas and has some of the best music he ever wrote. The score, bursting with melodies, is a thrilling, almost overwhelming, showcase for vocal pyrotechnics. The music is very difficult but, as one member of the cast pointed out, healthy for the voice.
This is the first time The Metropolitan New York has staged the opera. There are virtuoso fireworks from Joyce DiDonato, Daniela Barcellona, Juan Diego Flórez and John Osborn. The production, conducted by Michele Mariotti and indifferently directed by Paul Curran, dates from 2015.
The setting is 16th century Scotland and there is a civil war going on between King James V and the highlanders. Duglas (Oren Gradus), the highlands' leader, wants his daughter Elena (Joyce DiDonato) to marry Rodrigo (John Osborn), the chief warrior, to whom she is already betrothed; but she is in love with Malcolm (Daniela Barcellona), a humble warrior, which complicates matters.
The chorus of highlanders (who stand around awkwardly and very artificially for most of the performance) gets the opera off to a rousing start and they play a major role throughout; and most notably in battle, afore and after.
Elena is gathering heather when the King (Juan Diego Flórez), who regularly goes about his lands disguised as Uberto, loses his way and bumps into her. He instantly falls in love, enchanted by her voice. Who wouldn't fall in love with Elena when she is sung so sparklingly by Joyce DiDonato?
"I cannot live without you" is the refrain of all three men, romantic to a fault. Love (I quote) is a blazing torch which devours them all. Hearts pound. Souls reel. There are pangs of jealousy. There is pain and suffering.
Juan Diego Florez sings with such blazing ardour that it is a pity he has ever to go off stage. He has a great aria at the beginning of act 2. Together, Florez and DiDonato are very impressive. And they deliver again when they join Osborn for an exciting trio on the battlefield, fighting each other with high Cs.
Malcolm is a travesty role. It's difficult for Daniella Barcellona to be a man when she is wearing a kilt. I am, surely, not the only one who thinks Malcolm should have died along with Rodrigo and that the King should have married Elena.
In the opera's final moments, DiDonato takes over with a brilliant display of vocal pyrotechnics, leaving everybody agog and echoing Elena's own words: who could have hoped for so much happiness?
There are a number of ways of tapping into this opera and others at will. The Met Opera On Demand service offers annual ($149.99) and monthly ($14.99) subscriptions as well as a one-off payment ($4.99) for those who have limited time or only want to watch the occasional opera.
Reviewer: Robert Tanitch