La Fille du Régiment
Gaetano Donizetti, libretto by Jules-Henri Vernoy de Saint-Georges and Jean-François Bayar
Met Opera on Demand
Metropolitan Opera House, New York
From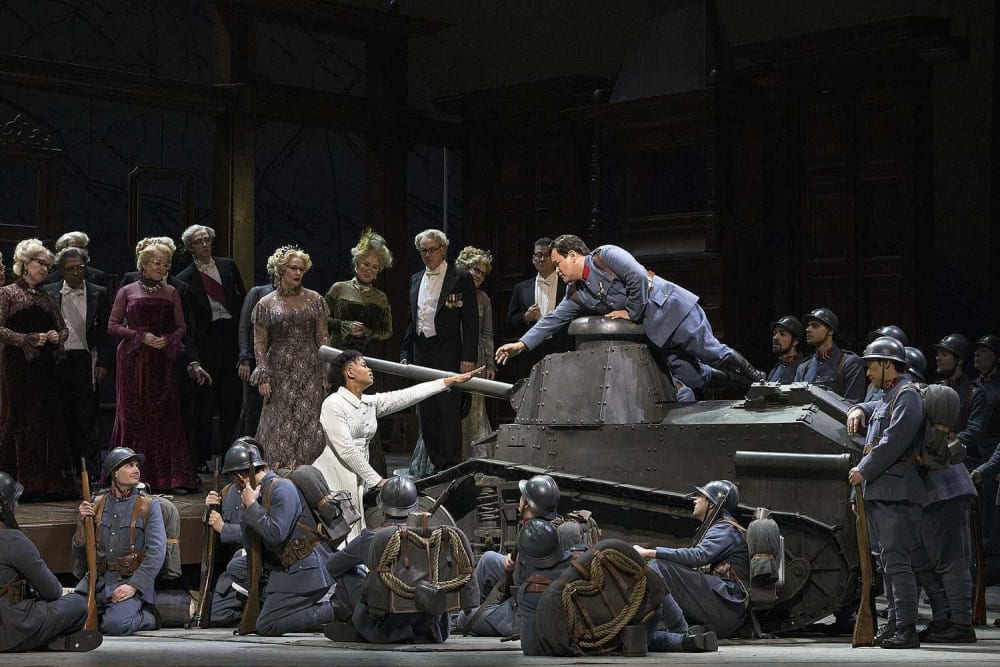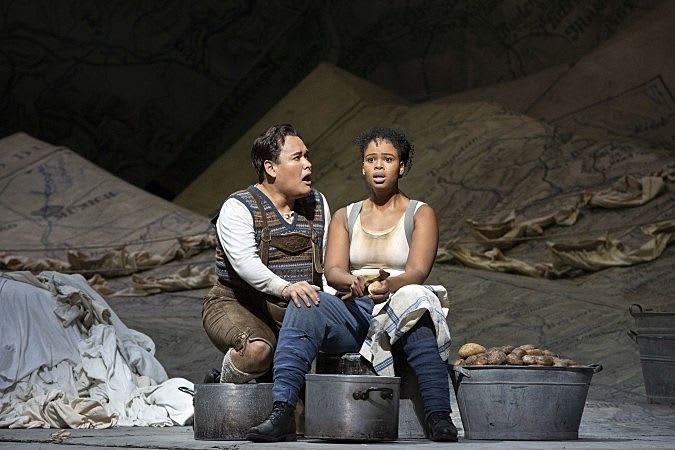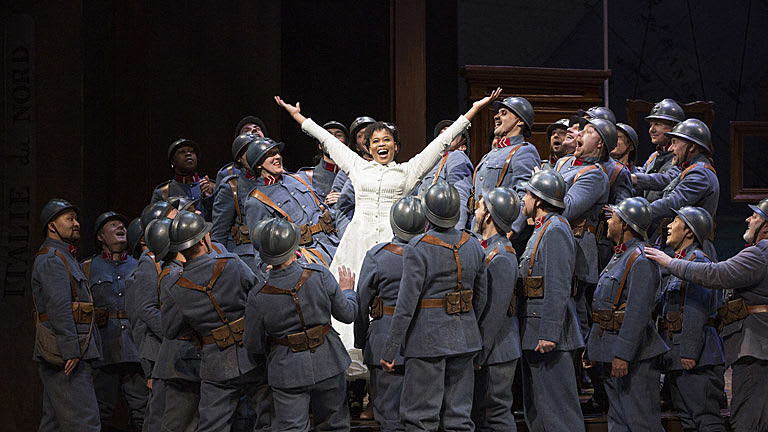 Donizetti's La Fille du Régiment premièred in Paris in 1840. It is its dazzling vocal pyrotechnics which have kept it in the French repertoire ever since. The score is irresistible.
This scintillating performance, directed by Laurent Pelly and energetically conducted by Enrique Mazzola, was seen at The Metropolitan New York in 2019 with Pretty Yende and Javier Camarena. The opera is a wonderful showcase for them.
The story, originally set in 1815 (the year of the Battle of Waterloo), has been updated to World War I. The production is a lot of fun. It's witty, it's carefree. Everybody is having a good time. The singing is great. The spoken dialogue is amusing.
Marie, the daughter of the regiment, was found on a battlefield when she was a baby and brought up and cared for by the 21st Brigade. The grenadiers adore her. But then who wouldn't adore her when she is played by Pretty Yende with such vivacity?
Marie is expected to marry one of the grenadiers but she falls in love with Toni, a Tyrolean peasant. Javier Camerena's juvenile little boy act is disarming. He has a great aria when Toni is pleading with Marie's mother, a formidable Duchess, to let him marry her daughter.
Camarena's most thrilling moment is when he is singing the notoriously difficult "Ah Mes aims" and hitting 9 high Cs one after another. He gets a standing ovation and then gives, OMG, a feat never attempted before, an encore, hitting the nine high Cs again. Wow!
A hard act to follow, you might think; but minutes later, Yende is singing a sad farewell to the grenadiers, who bombard her with gifts, and there's another showstopper. Yende can do the comedy as well; especially when she is being a naughty girl during a singing lesson and is deliberately singing really badly and throwing in unwanted coloraturas.
The all-male chorus has been brilliantly directed and choreographed. They never just stand around and sing. Their movement, behaviour and reactions add so much to the comedy. I haven't seen any chorus as funny since Graciela Daniele choreographed The Pirates of Penzance at Drury Lane in the early 1980s.
There is plenty of comedy elsewhere: a comic washing line of longjohns, a comic quartet of maids polishing and cleaning in time to the music and a comic bevy of elderly, senile, doddery aristocrats attending a wedding and suddenly confronted by a tank which has come to rescue the bride.
There is an amusing performance from Stephanie Blythe as the overbearing Duchess. Blythe would make a formidable Lady Bracknell. Maurizio Muraro is perfect casting for the old sergeant.
Kathleen Turner has a non-singing mini-cameo role in which the joke is the music takes precedence over her entrance and she has to wait, very impatiently, for the music to allow her to begin speaking.
Laurent Pelly's production is a memorable delight.
There are a number of ways of tapping into this opera and others at will. The Met Opera On Demand service offers annual ($149.99) and monthly ($14.99) subscriptions as well as a one-off payment ($4.99) for those who have limited time or only want to watch the occasional opera.
Reviewer: Robert Tanitch