La Fille du Régiment
Gaetano Donizetti, Libretto by Georges Henri Vernoy de Saint-Georges and Jean-Francois Bayard
Met on Demand
Metropolitan Opera House, New York
From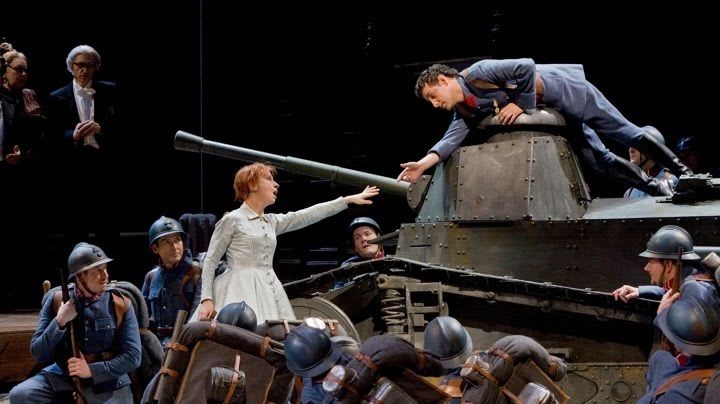 I much enjoyed seeing Laurent Pelly's production of Gaetano Donizetti's opera-comique again. This particular performance, conducted by Marco Armiliato, was seen at The Met in New York in 2008 with Natalie Dessay and Juan Diego Flórez in the lead roles.
The story, originally set in 1815 (the year of the Battle of Waterloo), has been updated to World War I. Marie, the daughter of the regiment, was found on a battlefield when she was a baby and adopted by the French 21st Brigade. She is their canteen girl. She cooks and washes their longjohns. The grenadiers adore her. Marie is expected to marry one of them; but she falls in love with a handsome Swiss peasant in lederhosen. He loves her so much that he joins the army to be eligible.
The high spot is when the charismatic Peruvian tenor sings the notoriously difficult "Ah! Mes amis" and hits 9 high Cs one after another. Florez gets a standing ovation in the middle of the opera. He has a big success, too, with his second act aria, the tender "Pour ne rappocher de Marie".
Natalie Desay's tomboy is a comic tour de force; vocally and physically, her stamina is amazing. And she can be affecting, too, when she bids the soldiers goodbye: "Il faut partir."
There are amusing performances from Felicity Palmer as the Marquise, Alessandro Corbelli as the sergeant, Marian Seldes as a formidable gorgon-dowager (a non-singing role) and also from the chorus as soldiers, whose reactions are wittily choreographed.
Laurent Pelly's production is a lot of fun and the vocal pyrotechnics dazzle.
There are a number of ways of tapping into this opera and others at will. The Met Opera On Demand service offers annual ($149.99) and monthly ($14.99) subscriptions as well as a one-off payment ($4.99) for those who have limited time or only want to watch the occasional opera.
Reviewer: Robert Tanitch