La forza del destino
Giuseppe Verdi, libretto Francesco Maria Piave
Maggio Musicale, Florence, Italy
Released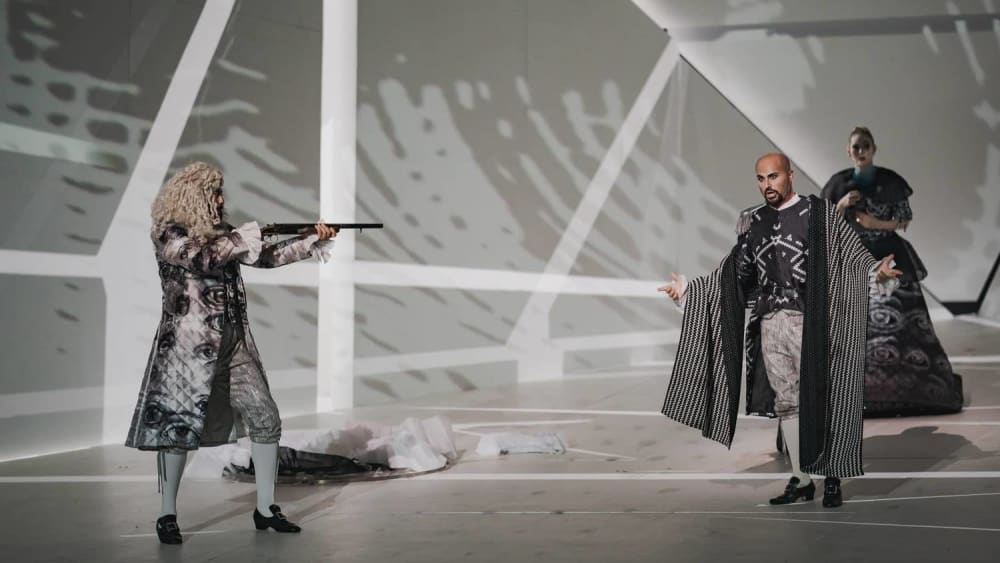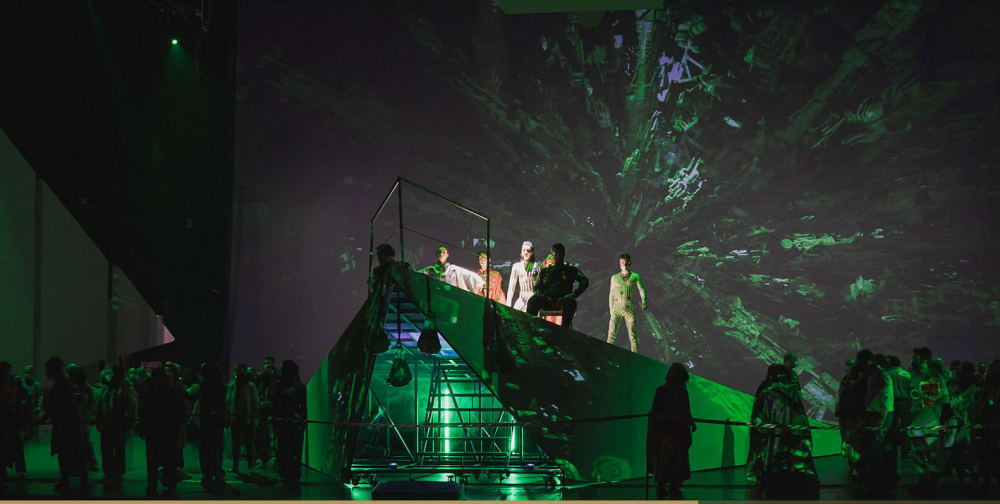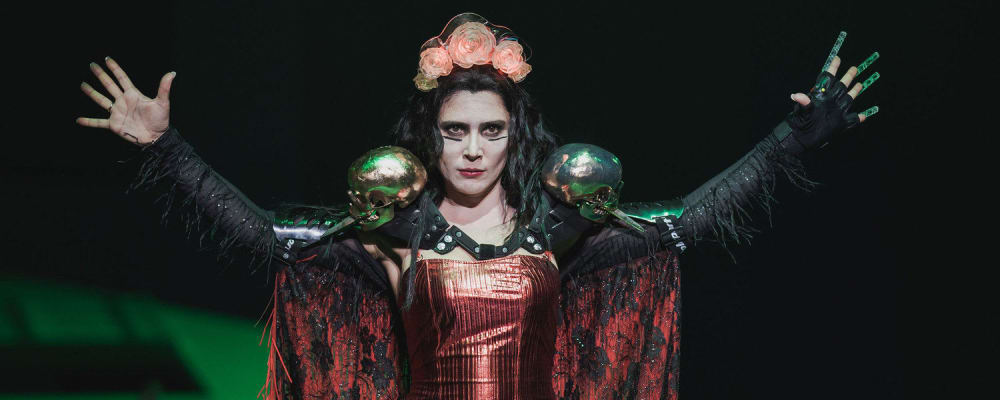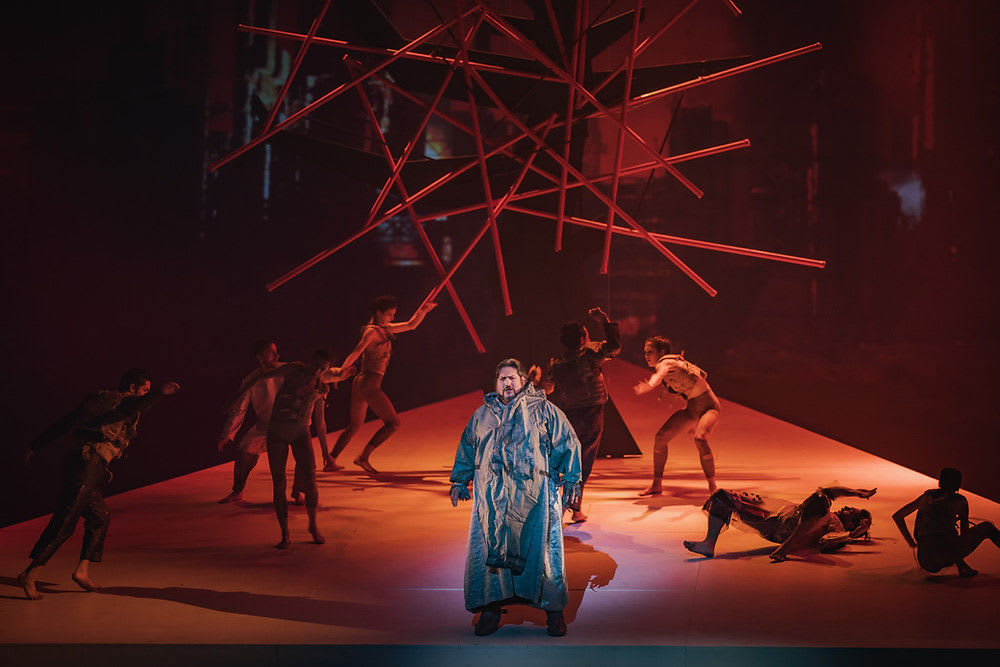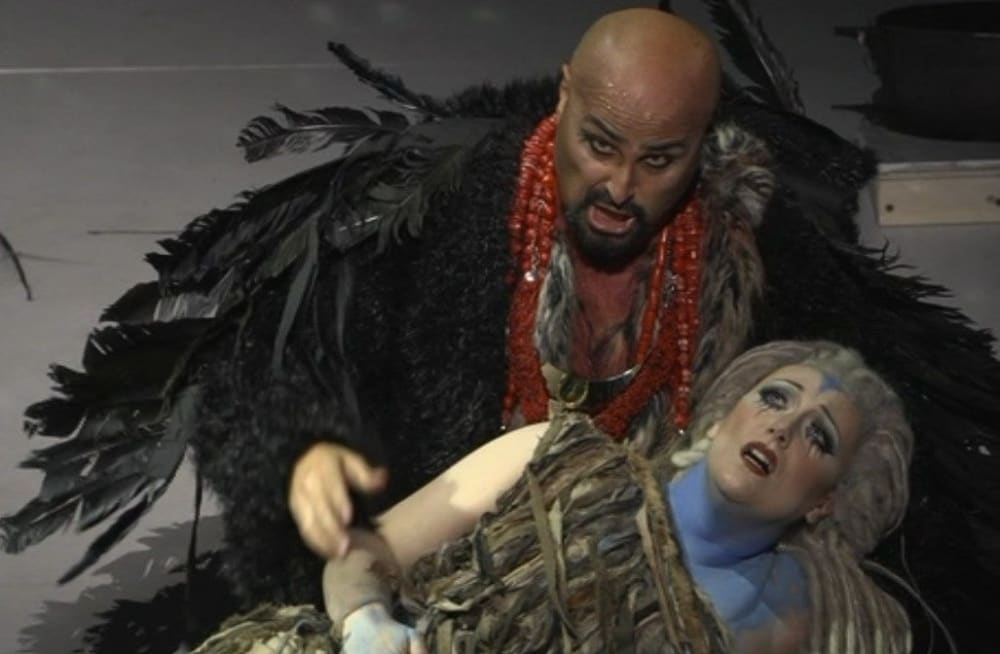 You don't need me to tell you, your having seen the pictures above, that this production of Verdi's fate opera is one of the weirdest you are likely to come across. So what might it all mean?
Director Carlus Padrissa is a founder of the radical Spanish company La Fura dels Baus, known for its unconventional approach that has attracted audiences who are not usually drawn to the theatre. In an abstruse programme note, he cites metaphysical theories of infinite worlds, black holes, and "the cave of our ancestors... where time and space form a circle."
He might have said that history repeats itself, but that would not sound so directorial. Anyway, the result is that the four loosely connected acts of Verdi's original are even more loosely presented by being set in the years 1758, 2027, 2222 and a post-apocalyptic 3333.
By that time, mankind has reverted to caveman technology, so that Don Alvaro and Don Carlo club each other with large bones, and our heroine would be nearly 1,600 years old. Hey, but it's opera.
It has to be admitted that the design—Robert Olbeter set, Chu Uroz costume, and Franc Aleu lighting—is startling, but the whole thing becomes depersonalised and lifeless, as if the principals were not real characters but computer-generated holograms.
Nor does it help that Padrissa has so much going on in the background, while finding relatively little for his protagonists to do. A particularly distracting moment comes during an earlier confrontation between the two Dons when I couldn't take my eyes off the blokes behind them apparently locked in water columns.
The story is already complicated enough. Alvaro accidentally kills the Marquis of Calatrava while eloping with his daughter Leonora. Both flee in disguise, pursued over years by her brother Carlo bent on revenge. Thinking each other dead, Leonora becomes a hermit, Alvaro a soldier, who is unwittingly saved in battle by Carlo, also under an assumed identity. Suffice it to say however that all does not end well.
The singers perform well despite whatever reservations they might have had about the production. Poor Saioa Hernandez first appears in that costume of eyes (watching fate?—your idea is as good as mine) that could get her arrested on grounds of taste if not decency. "You want me to wear THAT?" I can hear her saying.
I'd advise listen, don't look, for she is in great vocal shape, with smooth crescendi, secure top notes and excellent control exemplified in her big closing number "Pace mio Dio".
The other outstanding singer is Amartuvshin Enkhbat as Carlo, Hernandez's partner in the 2019 Parma Nabucco and currently starring in the same role at Covent Garden. He's rather a lump of dough in the acting department but there is a warm buzz in his expansive baritone that absolutely fills the space.
Roberto Aronica has a sweet sound, heard best at the start of act three, and in the melancholy "Le minacce", but his Alvaro seems no match vocally for his rival. Their great duet lacks impact partly as a result, partly as a result of the dehumanising of the whole shebang.
Annalisa Stroppa is another female for whom the costumes do no favours, appearing as the gipsy Presiliosilla first with burning breasts and later as a Rocky Horror angel of death in a mini-skirt that threatens to become a belt. Undeterred, she gives a spirited, slinky performance, inviting recruits to war with a "Viva la Guerra" that seems to relish destruction.
Nicola Alaimo brings some real humanity to the piece as a grumpy Melitone. Ferruccio Furlanetto, who passed 72 just before the May 2021 recording, may not have the rock-like voice he had, but he is still a great stage presence, and his Padre Guardiano shared with Melitone one of the best scenes in the production, helped by the fact that it was just about the only staged fairly traditionally.
The production follows the revised 1869 version, which comes after three hours to a slightly less bleak ending. Verdi had said he wanted opera to be about ideas—and this production is certainly that. But don't ask me to say what they all are. Despite one's many misgivings, this is a brave reinterpretation of the piece, and if it indeed appeals to a new audience, a successful one.
Reviewer: Colin Davison