La Galerie
Olivier Lepine
Machine de Cirque
Assembly Rooms
–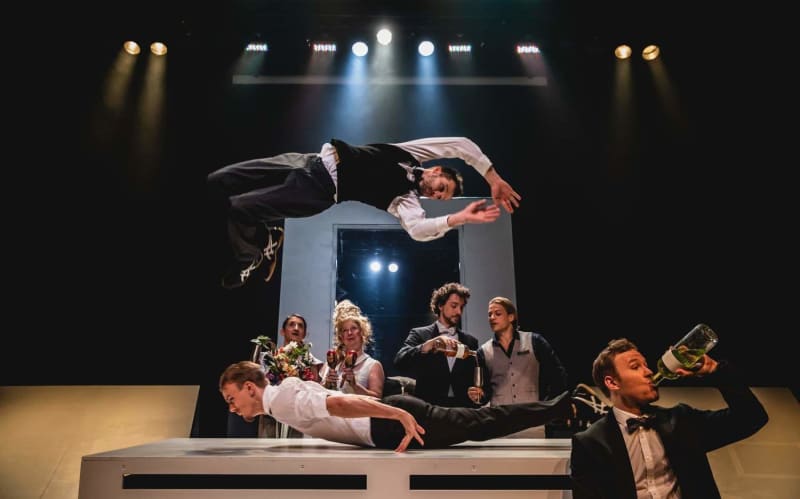 Immaculate white walls, immaculate monochrome performers, suited and booted, enjoying the serenity of their pristine exhibition. But then, what's this… some colour…
Quebec's Machine de Cirque delivers a flawless hour of playful acrobatic theatre, filled with edge-of-the-seat stunts and laugh-out-loud tomfoolery as they bring chaos out of order.
Featuring world-class circus artists, the company (under Olivier Lepine's expert direction) transcends circus conventions to create a staggering theatrical experience in which the space remains in constant flux, the set turns inside out and people upside down. The performers move with apparent effortless precision, while executing superhuman feats, reaching high into the vaulted ceiling of the Music Hall, gliding across the stage and moving under, over and through each other with dizzying prowess.
Each section of the show is cleverly preset as part of the action, introducing new, often bulky pieces of equipment to be explored as if they come from nowhere.
The result is a wildly entertaining hour of anarchy featuring complex acrobatic choreography, new twists on classic circus skills and heaps of infectious joie de vivre, reminding us that it is laughter and compassion that bring us colour; that in others and with others we discover what it is to be truly alive.
Reviewer: Tony Trigwell-Jones