La Mélancolie des dragons
Philippe Quesne
Nanterre-Amandiers / centre dramatique national
Home Manchester
–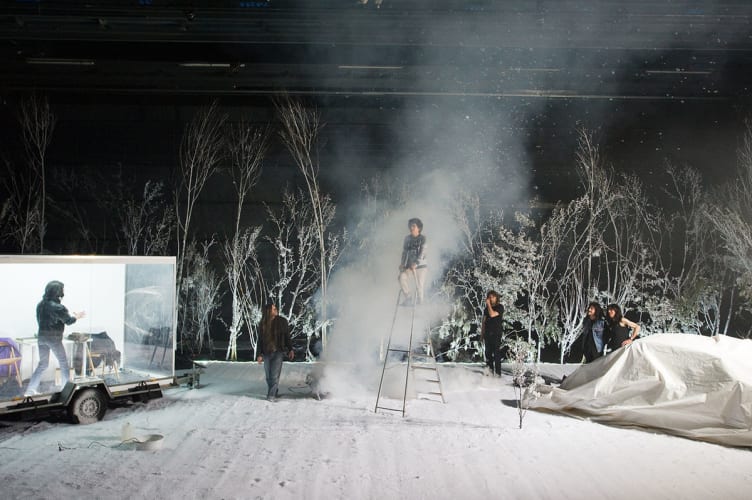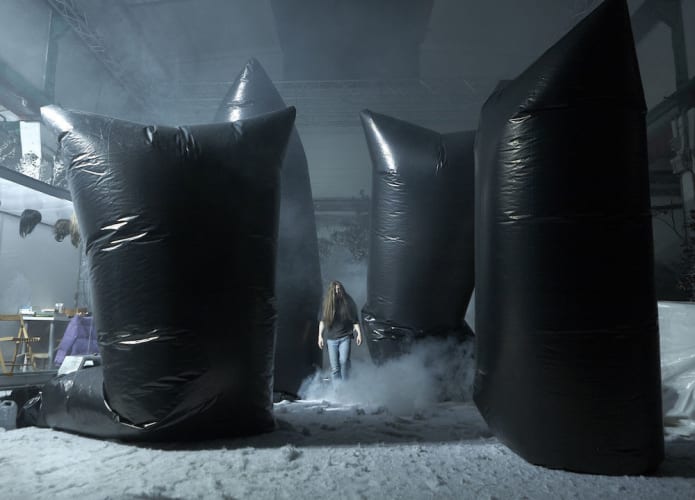 Walter Meierjohann came to the role of artistic director of theatre at Home with the promise of bringing something rather different from the old Library Theatre repertoire to the Manchester theatre scene, perhaps more in line with the Library's partner in the Home project Cornerhouse Cinema's European arthouse style.
This briefly visiting production from Philippe Quesne, a UK première, certainly fits in with this style, but manages somehow to be both avant-garde and accessibly entertaining at the same time—but it's quite difficult to describe exactly what kind of performance it is.
We enter the theatre to see a white Citroën with a box trailer sitting in the middle of a snowy clearing in the woods. Inside the car are four long-haired men drinking cans of Fosters, eating snacks and listening to heavy metal music—or at least to the beginning of each track before skipping to the next.
But nothing is what it seems in this performance. The old woman with a bicycle wears an Iron Maiden t-shirt under her jacket and knows more about fixing cars than any of the men. The men are not a rock band but rather pretentious installation artists, and the trailer is an important part of their latest art installation.
The artists and their technicians enthusiastically show the woman, Isabelle, around the various aspects of their work, involving wigs, books, projection, smoke machines, a bubble machine and some huge inflatables blown up by a desk fan. She responds with wonder at the most banal and simple things.
Even what we initially accept as the reality of the scene, such as the snow on the trees and the ground, is later shown to be part of the artifice. The piece is both arty and satirical of the arty in a way that is funny not just to those "in the know" in the arts scene. It's a very gentle, slow-moving, quietly-spoken and good-natured piece, unusual certainly but also entertaining with lovely performances from the eight-strong cast.
It's almost an installation piece about an installation piece, but isn't the endurance test of, say, a Robert Wilson production. It is perhaps a touch too long, but it mostly keeps the attention through its humour and it's enthusiastic, well-meaning and wholly likeable characters.
Reviewer: David Chadderton