La Rondine
Giacomo Puccini, libretto by Giuseppe Adami
Met Opera on Demand
Metropolitan Opera House, New York
From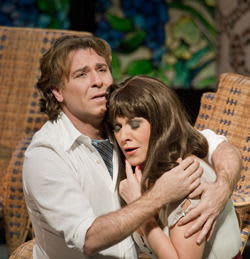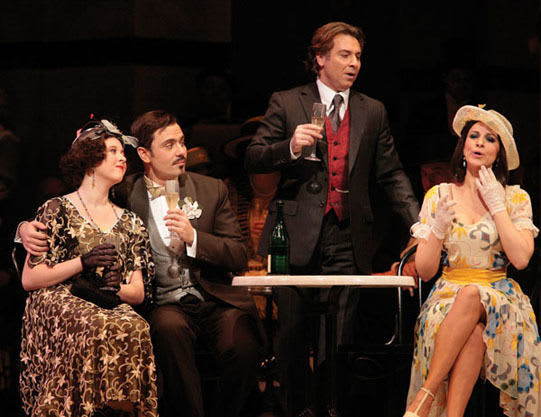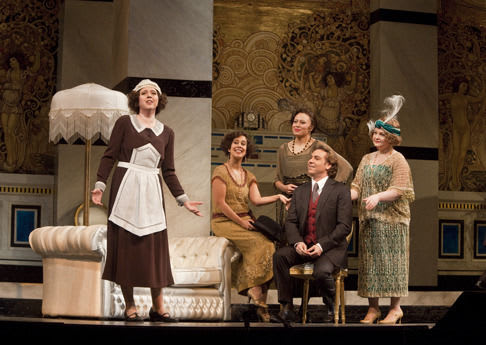 Giacomo Puccini wrote the score in 1915 but World War I delayed the production and La Rondine did not première until 1917 and then in Monte Carlo.
Puccini was going to write an operetta and then changed his mind and decided to write an opera. La Rondine still feels like an operetta: lightweight, charming, waltzy, pretty to look at and very easy to listen to. But if it were really an operetta, La Rondine would be a love-letter to Paris with lots of kisses. Hearts would beat and dreams would come true.
This enjoyable production, with Angela Gheorghiu and Roberto Alagna, directed by Nicholas Joel and conducted by Marco Armiliato, was seen at The Met in New York in 2008 and it did much to bring back an opera which had been unfairly dismissed and neglected for too long. The slight storyline has been updated from the Second Empire to the 1920s. There is an opulent Art Deco set by Ezio Frigerio and lovely costumes by Franca Squarciapino. They had a key role of the production's success..
Magda, the mistress of a wealthy banker, is likened by a poet to a swallow (rondine) who wants to find true love. Magda does indeed hunger for love. She remembers, when she was much younger, dancing in a café with a total stranger and instantly falling in love; but the love was so fleeting it remained inside the café and she never saw him again. When Ruggero, a younger man, turns up, she tries to recapture her youth and make a bitter-sweet dream come true by joining him in the very same café and this time having sex.
With such a glamourous and famous couple as Angela Gheorghiu and Roberto Alagna playing the leading roles (and everybody knowing they were husband and wife in real life), nobody is going to believe that Magda would leave Ruggero and go back to her elderly banker. Alagna sings with such emotion but he is far too old to be playing the role of a naïve young man. It is also very difficult to believe Alagna in the 1920s would be writing to his mum asking for her permission to marry.
Magda knows Ruggero's family will never accept a fallen woman and breaks with him. Her self-sacrifice clearly aims to be as moving as Violetta giving up Alfredo in La Traviata; but the heartbreak, musically, is just not in the same class.
The final moments get their emotion from the chemistry Alagna and Gheorghiu have and the tears they so liberally shed. Alagna looks absolutely devastated.
There is a silly subplot which never rises above a trivial operetta level. The poet (Marius Brenciu) has a fling with Magda's personal maid (Lisette Oropesa), promising her he will make her a big stage star. She fails spectacularly and decides to remain a maid. Brenciu has the period style and Oropesa has the French farcical oo-la-la silliness.
The opera's ending is so abrupt, such an anticlimax, that it leaves the audience feeling something has gone wrong backstage and the curtain has come down too soon. Puccini made two attempts to get the final moments right but was satisfied with neither.
There are a number of ways of tapping into this opera and others at will. The Met Opera on Demand service offers annual ($149.99) and monthly ($14.99) subscriptions as well as a one-off payment ($4.99) for those who have limited time or only want to watch the occasional opera.
Reviewer: Robert Tanitch