La Serva Padrona
Giovanni Battista Pergolesi, libretto by Gennaro Antonio Federico
Orchestra La Petite Bande
Luna Theater, Brussels
From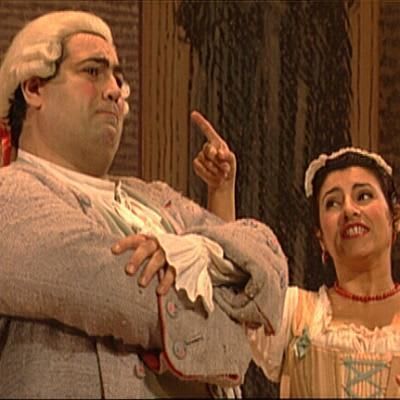 Italian composer Giovanni Battista Pergolesi (1710–1736) was 23 years old when his witty and sparkling intermezzo premiered in Naples in 1733. Sadly, three years later, he died of tuberculosis at the age of 26.
A landmark in the history of opera buffa, La Serva Padrona lasts just 40 minutes. There are only two singers, Patrizia Biccirè and Donato Di Stefano, and an actor, Stefano Di Lucca, who is cast as a comic manservant, a non-speaking, non-singing role, a commedia dell'arte clown,
Serpina, a maidservant, who already rules the household and her master, Uberto, tricks him into marrying her by pretending she is going to marry an army captain (who is the manservant in disguise). Uberto, who has been in love with her since she was a child, is not very bright and easily duped.
The orchestra, La Petite Bande, is conducted by Sigiswald Kuijken. The score and the singing are a delight. There is no chemistry, let alone love, between Patrizia Biccirè and Donato Di Stefano. Serpina remains true to her name, an impertinent, bossy and very determined serpentine shrew. The marriage is unlikely to be happy one.
Ferrucio Soleri's production, which was staged at the Luna Theatre in Brussels and filmed in 1998, can be seen on the EuroArtsChannel free.
Reviewer: Robert Tanitch