La sonnambula
Vincenzo Bellini, text by Felice Romani after the libretto by Eugène Scribe for La Somnambule, ou L'Arrivée d'un nouveau seigneur by Jean-Pierre Aumer and Ferdinand Hérold
Deutsche Oper am Rhein
Deutsche Oper am Rhein, Dusseldorf, Germany
–

Listing details and ticket info...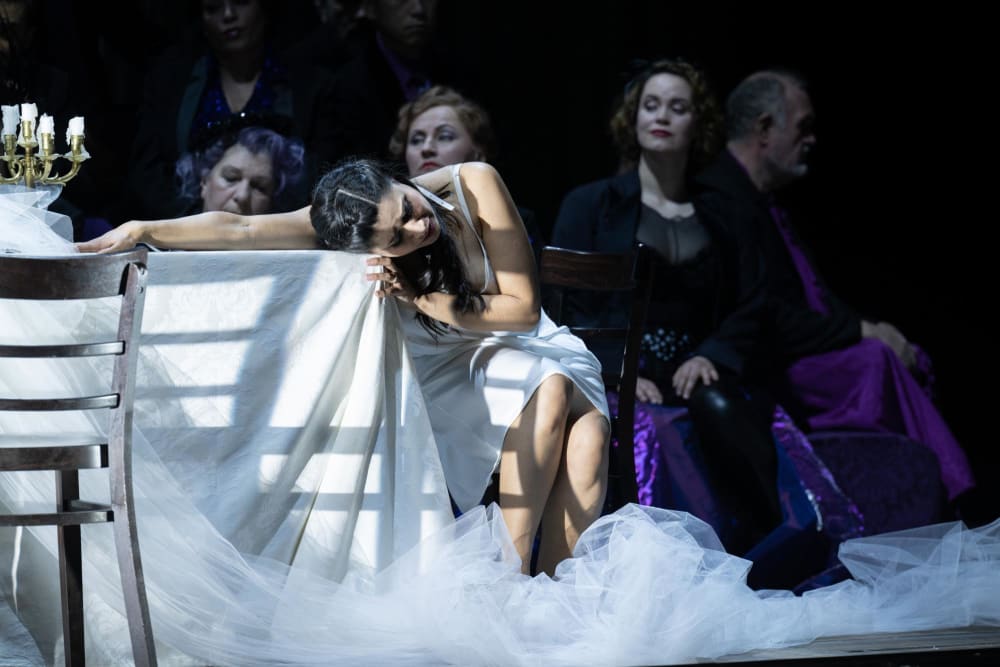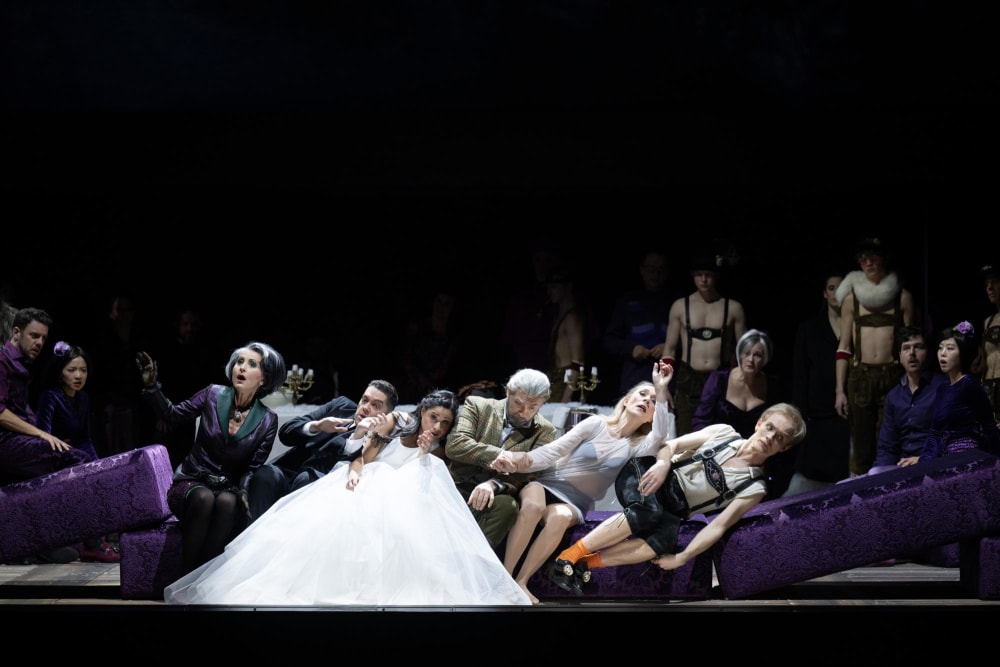 Vincenzo Bellini wrote marvellous showcases for the great bel canto singers of his day and not least Giuditta Pasta, who created Amina at the première of La Sonnambula in Milan in 1831. The opera, with its lyrical and lively melodies, is semi-serious. The emphasis is on virtuoso vocalism.
Somnambulism was all the rage in the Romantic era and the opera was extremely popular for most of the 19th century before it went out of fashion. It was rehabilitated in 1955 by Maria Callas in a production by Luchino Visconti, conducted by Leonard Bernstein, at the Scala in Milan.
The opera has a pastoral story to tell of sweet and bitter love, of burning desire and jealous cruelty, and also of joy and disgrace.
The celebration of the betrothal of Amina (Stacey Alleaume) and Elvino (Edgardo Rocha) usually takes place in an isolated village in the Swiss Alps. In Johannes Erath's production, conducted by Antonino Fogliani, it is all taking place in Amina's conscience, her inner doubts and fears. The staging is totally surreal, an erotic dream.
The much-loved Amina, an orphan by birth, the pride of the village, has a beautiful heart and all the virtues. She has never sinned in either word or deed. So, it is a big shock to Elvino and everybody else when she is discovered asleep in a mysterious stranger's bed on her wedding day.
She has no idea how she got there. She is a sleepwalker. She was sleepwalking. She is absolutely innocent. Not surprisingly, Elvino, a jealous, unforgiving man, does not believe her and is so angry, he decides to marry Lisa (Heidi Elisabeth Meier), his former lover, instead. Lisa is a flirt, who can't wait to take off all her clothes and bed the stranger (Bogdan Taloș).
The chorus of villagers are observers, sometimes inside the action, sometimes outside it, like an audience of jurors. Sometimes awake, sometimes asleep, they wear extravagant costumes and headdresses and top hats. Their movement, like the movement of the lead roles, is always artificial and never for one moment real.
Stacey Alleaume sleepwalking and swearing eternal faith and love is a beautiful sound and a beautiful sight. Heidi Elisabeth Meier, dressed in a beautiful white wedding gown and wearing a bridal crown, is a tragic figure, jilted twice. Alessio (Valentin Ruckebier), who loves Lisa, is portrayed as an unloved village idiot.
The opera's happy ending bears no relation to what has gone on before in Erath's production and feels so phoney that it can only mean that everybody on stage must be still asleep and dreaming.
Deutsche Oper am Rhein's La Sonnambula can be watched free on the OperaVision channel.
Reviewer: Robert Tanitch