La Strada
Based on the subject and script work by Federico Fellini, Ennio Flaiano and Tullio Pinelli
Belgrade Theatre Coventry
Richmond Theatre
–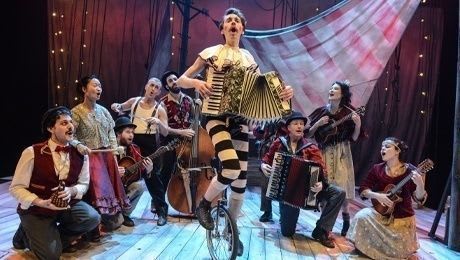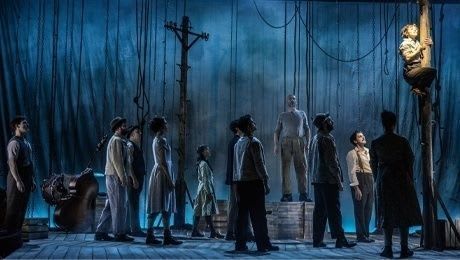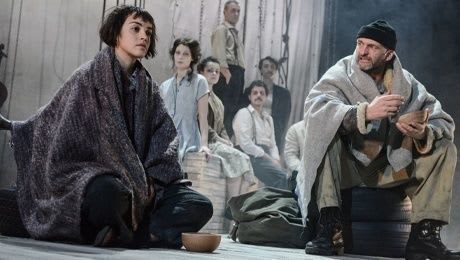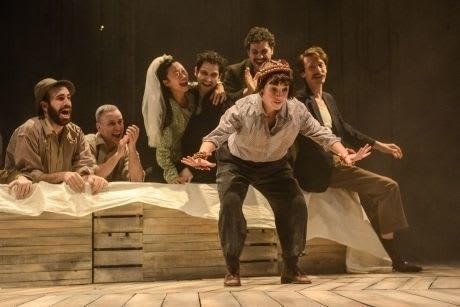 Fellini's La Strada (The Road) was a landmark movie. In 1957 its story of a travelling strongman and the girl he buys from her poverty stricken mother to be his assistant won the Oscar for Best Foreign Film. This stage adaptation, developed by the company with director Sally Cookson and "writer in the room" Mike Aker with music by Benji Bower, isn't the first. Lionel Bart wrote a musical version that debuted on Broadway back in 1969. It lasted only 14 previews and closed after the opening night. I wonder whether Broadway would take to this new one?
These days our expectations of the form are different but this is not a typical musical. It score evokes atmospheres rather than action and its numbers, rather than allowing characters to sing out their inner feelings keep them contained, as did Fellini, expressed less directly.
It is performed by a group of actors and musicians who make up an ensemble that is present on stage throughout. Apart from the three main characters (the simple-minded innocent young Gelsomina, strongman Zampanò and tight-rope-walking clown Il Matto), they provide all the briefly glimpsed villagers, Gelsomina's mother trying to raise her large family single-handed, a wedding party, and a circus troupe. They are always an integral part of the presentation in a performance that is often halfway between dance and mime with comparatively little dialogue and songs sometimes in Italian and, even when in English, sung with more emphasis on sound and feeling than clear delivery of lyrics.
Designer Katie Sykes mounts the action on a simple platform in front of a wall hung with ropes and chains. Two telegraph poles are the only scenic elements; wooden crates become chairs and tables, even a motor bike when handlebars and headlamp held by Zampanò are added, with tyres rolled across the stage by ensemble members put it in motion.
The style is set from the beginning: a drab grey scene shrouded in haze, actors as waves encroaching on the shore. It fits the hard life and the hard place where Zampanò comes to say that Rosa, Gelsomina's elder sister, who he previously took as his assistant had dies and he now offers 10,000 lira for a new girl.
Audrey Brisson is an endearing Gelsomina, listening to the sound of the sea in a shell, throwing a stone into the water, ravenously gulping down a huge meal after months of privation.
"I'll be an artist, like Rosa, she declares as she leaves home." With a jacket and bowler, Zampanò gives her a clownish appearance and drills her in drumming to draw the crowd to watch him break a chain with his strength and then take the hat round. He treats her harshly but she remains loyal, though often abandoned for the night as he disappears with a woman.
This Gelsomina doesn't learn to be the Chaplinesque clown that Giulietta Masina presented, she stays touchingly raw with no act to hide behind, and it's her determination that keeps her going.
Stuart Goodwin makes Zampanò's harshness an impenetrable façade, his speech sometimes fragmented as though communication is difficult. You can't help but wonder what has damaged him. The production doesn't establish a clear date but Fellini originally set it in the aftermath of Fascism and war.
Bart Soroczynski's Il Motto, in contrast, is an easy-going advocate of freedom. The actor is a real unicyclist, though in the style of the production his tightrope act is on the ground in front of crowd looking skywards. It is he who builds Gelsomina's confidence, teaches her to play the trumpet.
Il Motto briefly brings hope into this sad story, though its greyness has already been lightened by a wedding and it gets some splashes of colour when all three become part of a circus.
It is a tale told in glimpses rather than continuous narrative but full of enlivening detail: birdsong at dawn, a boy in search of a lost dog, the woman who owns the circus, Il Motto's sudden disappearing act, but the stylisation of this production gives it an almost Brechtian alienation.
Benji Bower's music and Cameron Carver's movement direction are theatrically very effective and often beautiful in creating atmosphere but the drama's protagonists are observed, you don't share their feelings. Indeed, to do so might prove too painful.
This is a production that echoes the bleakness of Fellini's original, although it doesn't reproduce his war-shattered landscapes, the isolation of each of the three leading characters is cruelly apparent. Happy lives need trust and understanding and never more so than now.
La Strada is touring the UK tour prior to a run at The Other Palace in London from 30 May to 8 July 2017.
Reviewer: Howard Loxton