La Sylphide
Choreography by Peter Schaufuss, after August Bournonville, music by Herman von Løvenskjol
Queensland Ballet
Coliseum
–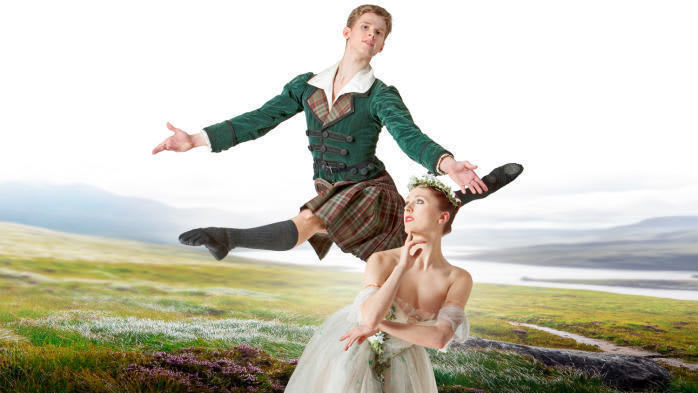 It is almost 180 years since Bournonville first staged his La Sylphide at the Theatre Royal in Copenhagen but it has stayed in the Danish and international repertoire ever since.
Peter Schaufuss originally mounted this production for London Festival Ballet back in 1979, when it won both Olivier and Evening Standard Awards. That was a long time ago but now, recreated with the Queensland Ballet it comes up as fresh as ever.
Schaufuss, like his parents, grew up in the Bournonville tradition in the Royal Danish Ballet and so have his dancer children Luke and Tara. She is a member of the Queensland company (and later in the week will dance the Sylph) and he, a member of Birmingham Royal Ballet, is guesting with them for this production with which Queensland Ballet makes its British debut.
Bournonville style is very different from later Russian classical ballet. It may look simple but it is by no means easy to achieve its speed and fluid grace with the unshowy modesty that it demands. From the first moments after the curtain rises on this production, it is clear that his romantic ballet tradition has been passed on.
In the late David Walker's setting of a grand baronial hall, a Scottish laird sits by his fireside dozing watched by a fragile looking fairy figure, a Sylph. It is James's wedding day—but not if the Sylph can help it.
While wedding preparations proceed and villagers celebrate with Bournonville versions of Scottish reels, the Sylph continually distracts him. Meanwhile, a sinister old woman turns up he tries to turn out but Effie, his affianced, takes her part when James tries to turn her out. Soon she is telling fortunes, predicting that Effie will marry another. He's furious but she puts a curse on him.
The Sylph wants James and, fascinated, he rushes off after her just as the ceremony is about to start, leaving his veiled and bouquet bearing bride bereft.
In a dark romantic wood, witch Madge (Greg Horsman) is cooking up a cauldron putting a spell upon a scarf, which she will give to James to entrap the Sylph and wreak revenge on both of them.
Bournonville demands an ease and naturalness that Schaufuss gets this young company to capture aided by the softness of longer skirts instead of the artificiality of classic tutus. There is a lovely contrast with the mortal women when the Sylph goes up on point and Sarah Thompson convincingly uses this to add ethereality rather than rigidness and just a touch of arrogance. When in the second act her fellow Sylphs are all on point, they too maintain a delightful lightness.
Is this Sylph a protective spirit that has become too possessive? Sarah Thompson dances beautifully but does not add much characterisation apart from a flirty coyness. This is a "don't touch" relationship with nothing erotic about it, which rules out exotic lifts.
As James, Luke Schaufuss brings lightness and deftness to his dancing. There is good presentation without showing off: it is the choreography not bravura that makes him leaps higher that his rival Gurn (Vito Bernasconi).
The whole company do themselves credit; its juvenile members who are cleverly scattered through the crowd of dancers are especially charming. The production keeps a fine balance between naturalness and the romantic Victorian fairy tale tartan with the men in kilts—and yes, with all those fast turns, they do wear breeks.
Reviewer: Howard Loxton