La Traviata
Verdi
English National Opera and Opera Graz
London Coliseum
–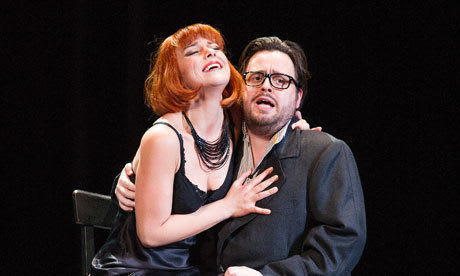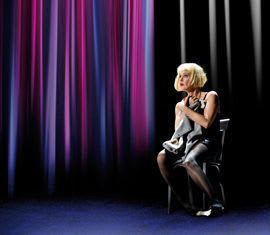 After ENO's latest release of accounts, everyone's aware that the company is barely afloat in this treacherous recession. Can this new La Traviata make a dent in the £2.2 million deficit?
Director Peter Konwitschny's minimalist approach should help minimise production costs, but he certainly hasn't scrimped vocally. Sought-after Corrine Winters plays Violetta, and lives up to the hype. Rising star Ben Johnson makes his Alfredo debut, capably delivering this gawky and book-obsessed character. The greatest flaw with all of the soloists is the time taken to warm up onstage, most notably the Father and Violetta. This hinders an otherwise pacy production, cut to just 110 minutes with the interval removed.
Initially clumsy with the updated libretto, Winters soon blows all doubts about her ability out the water with her first of many displays of virtuosic coloratura. With this explosive flourish out of the way, the text is liquid and given direction. Winters's coloratura is daring, vivacious and masterfully executed, coupled with a sotto-voce so tender she casts a spell over the auditorium. Her manic and feverish behaviour in act two captures this desperately ill character perfectly and leads us towards her beautifully choreographed final death.
This La Traviata premièred last year at Opera Graz, and brings conductor Michael Hofstetter with it to the ENO. Hofstetter wields the orchestra wonderfully, and certainly elicits the most powerful playing I've heard from the Coliseum pit in a while.
Violetta, a high class prostitute, couples with Alfredo in an attempt to cheat death with her reformed behaviour and happiness. Alfredo's father cannot stand the scandal, and comes to break up the relationship bringing an additional character with him, Alfredo's sister. Violetta capitulates in order to save the poor girl from her brutal Father, allowing her a shot at marriage with Alfredo's return. Leaving Alfredo speeds up Violetta's demise, and we see her fragility as she returns to Parisian society.
Johannes Leiacker's (designer) set revolves around layer upon layer of crimson curtains, the only set bar a chair and a pile of books. Characters duck between layers moving to new locations and the curtains are opened and closed to reveal the cracks in the exterior of the flawed Parisian society, or the opening of one's hearts to new emotions. At times this fascination with curtain play becomes superfluous in this lean staging, and isn't aided by the technical hitches in act 4. Most effective is the chaos created (act 3) with curtains collapsing and drowning the cast. This strips away Alfredo's bluster and Violetta's bravado and allows the most touching musical moment to surface.
Leiacker's costume designs add to Violetta's double persona—clad in bob wigs and fancy dresses she has a society persona that's revamped with a flannel shirt, headband and boots for her sojourn in the country. Finally stripped of all these trappings, Violetta meets her death with wig thrown off and nothing but a black slip to protect her.
A stylized production with well-choreographed movement vocabulary, this falters initially as the soloists deliver gestures that are clearly assigned choreography rather than transforming them into their own emotionally-fuelled physical response. Violetta's ham-fisted fall from her chair and delayed scream is the most obvious example. Such acting complaints fade into to thin air by act 2; more confidence in the direction is required to open the show.
This is a mesmerizing production—energy builds throughout and has us gripping the edge of our seats in anticipation. Will Alfredo come back in time, will his father cave, how long can Violetta hang on? Konwithschny has brilliantly brought the plot to us in a relatable and exciting format and the small niggles mentioned above could so easily be ironed out to make this the blockbuster production ENO so desperately requires.
Reviewer: Louise Lewis