La Traviata
Music by Giuseppe Verdi, libretto by Francesco Maria Piave (from the original story by Alexandre Dumas fils)
Opera North
The Lowry, Salford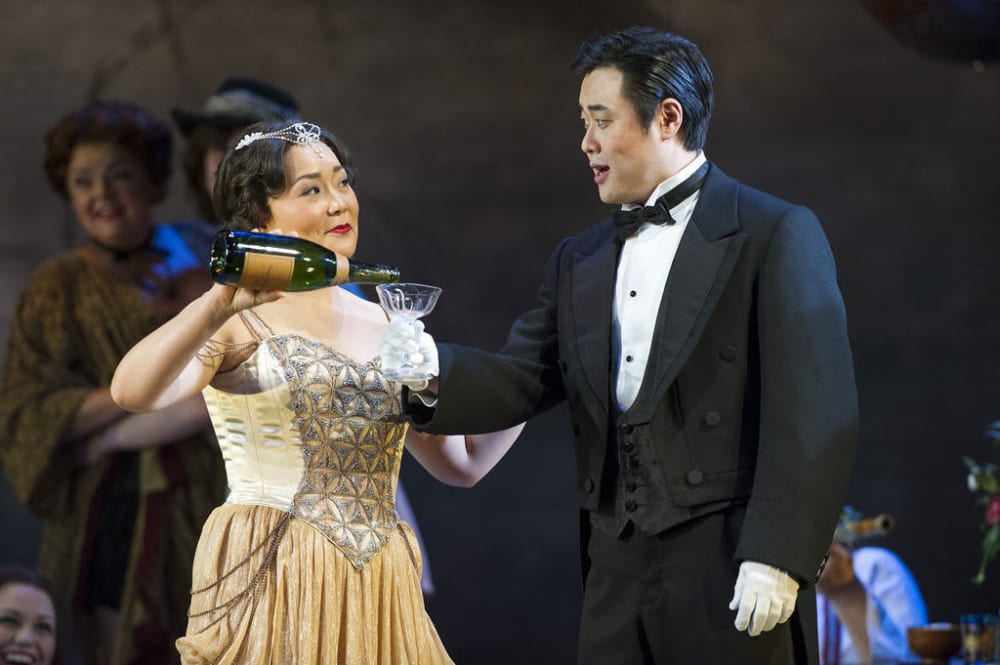 One part raunch, two parts romance, one fallen woman, one hot-headed young lover, a large dollop of injustice, a premature demise; add salty tears to taste. La Traviata is back on the Opera North menu, and very welcome, too.
In an atmospheric opening, the overture plays over the image of a full moon, which soon becomes the view down a microscope—bacteria, swimming and multiplying—and then the progress of an endoscope, winding its way down a human trachea. Fear not; this display stays comfortably the artsy side of human anatomy (no consumptive blood is about to be coughed up on screen!). It's a neat device—drawing the audience in, whilst foreshadowing Violetta's illness.
The most famous courtesan in western culture is throwing a party—high on style and sleaze: drink, drugs, sex, and one or two other touches of transgression. Violetta is already gripped by the disease that threatens her life but, if she must die, she is determined to go out riding a wave of hedonism.
So much for bad intentions—the arrival of a young admirer, Alfredo Germont, soon propels our heroine into that very form of love she was determined to resist: sincere, passionate, all-consuming. In allowing herself to love and be loved by Alfredo, she embarks upon a life of, in Alfredo's words, 'torture and delight' ("Un di, felice eterea"). This being a tragic opera, we do, of course, get to see more of the torture than the delight.
Opera North's new production successfully casts two young South Korean singers in the main roles. As Violetta, Hye-Youn Lee is a little tight-throated early on, causing a slight shrillness in the coloratura passages, (though I suspect this is nerves for, once she relaxes, especially from act two onwards, she sings with grace and feeling). Lee gives Violetta all the inner strength and nobility we could ask for, without sacrificing musicality.
Jin-Min Park entirely convinces as Alfredo (albeit certain of his gestures could be less expansive and abrupt). He sings with clarity and conviction and we are easily convinced this is a rash but sincere young man, consumed by love.
Roland Wood provides the necessary gravitas as Giorgio Germont; aficionados of "Di Provenza il mar" are unlikely to be disappointed.
Alessandro Talevi's direction could use a lighter hand. Too often the cast seem pulled hither and thither, with gestures and movement that are trying too hard to convey inner turmoil the music and libretto already deliver.
Whilst the screen projections are successful, a further device in the final scene seems to suggest that Violetta has lived a life seeking public approbation. She's a courtesan, not some 19th century version of Norma Desmond. She may be under public scrutiny, but she is not in search of applause.
While I have some sympathy with Talevi—there's always pressure on a director to add some new twist to an old story—fussy direction throughout and too much "business" at the finale undermines the emotional force of two lovers torn apart, reunited then, immediately and irrevocably, torn asunder once more. Let the story and the music speak, Mr Talevi. They won't let you, or your audience, down.
Madeleine Boyd's sets are visually engaging without being over-elaborate; her costumes at their best in Violetta's party. The piece is ably lit by Matthew Haskins.
On the whole, despite fussy direction, this is an enjoyable production, one in which the young leads in particular can take pride. Comfortably more delight than torture.
Reviewer: Martin Thomasson