La Vie Parisienne
Jacques Offenbach, Libretto by Henri Meilhac and Ludovic Halévy
Opéra National de Lyon
Released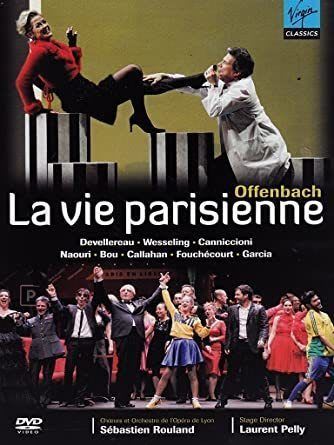 Jacques Offenbach (1819–1880), king of light music, created the comic French operetta. La Vie Parisienne, based on a one-act farce, satirizes French society and is a hymn in praise of Paris, a delightful place to have sex and live life up to the hilt: eating, singing, dancing and making love.
The operetta, which premièred in 1866, was aimed at the tourists from all over the world who were about to descend on Paris for the 1867 Exhibition. The public loved Offenbach's funny, bright, witty melodies; but there were many people, and especially the press, who were shocked by the vulgarity of the sexual behaviour.
Richard Wagner thought Offenbach's operettas were "a dung heap in which all the swine of Europe swallowed." Today, the surprise is how tame it all is and lacking in innuendo.
Laurent Pelly's production, conducted by Sebastien Rouland at Lyon in 2008, updated the action to modern times and the opening scene is not set in the Gare de Lezare but in a busy airport lounge with everybody rushing around frantically, confused by information coming over a loudspeaker.
Raoul (Jean-Sébastian Bou) a boulevardier, passes himself off as a tour guide to gain access to a Swedish Baroness (Michelle Canniccioni). Her accompanying husband (Laurent Naouri) is in Paris solely to have sex and hopes to have sex with a high-class courtesan (Maria Riccarda Wesseling).
The music offers nothing too difficult. Offenbach was writing for actors rather than singers and he relied on ensembles and jolly finales to each act to give the operetta the uplift it so badly needs. In the entr'actes in this production, there are mime and dance sequences with policemen and street cleaners with dustbins which are full of demi-mondaines.
The cast includes Marc Callahan as Raoul's mate, Marie Devellereau as a glovemaker and Jean-Paul Fouchecourt as a shoemaker with a funny walk. Jesus Garcia as a rich Brazilian has a star entrance on a staircase but then, surprisingly, is given very little to do thereafter.
Laurent Pelly encourages everybody to go way over the top far too often; and the harder they try for laughs, the less funny and more laborious it becomes. But the production, irritating though it can be, is worth seeing for its high spot: an extended and vigorous routine in which a tipsy song is sung by a chorus popping up and down behind a long dinner table which is then turned by them into a rotating seesaw on which the duped and tipsy baron sprawls.
Reviewer: Robert Tanitch