La Vie Parisienne
Jacques Offenbach
Theatre des Champs-Elysees, Paris
Released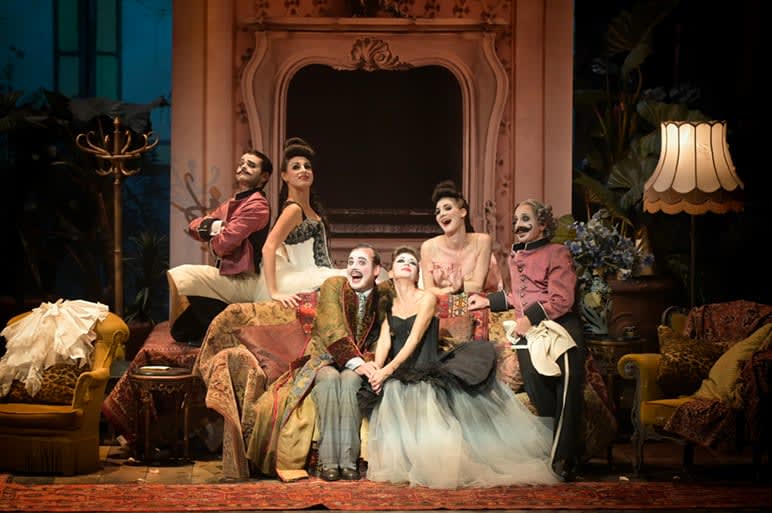 "Parisian life—endless fun and games," exclaims good-time girl Gabrielle. That seems about right for this glorious, frolicsome romp where it seems any time is party time.
Offenbach wrote his burlesque comedy to cash in on the World Exhibition to be held in Paris in 1867. Gardefeu, a young man about town, wants to seduce a visiting Danish baroness, his plot involving tradesfolk posing as aristocrats, an aristo posing as a coachman, and mistaken bed-mates.
There's a hint in the libretto that the capital is a delightful place, provided one is well-off, but that's about it as far as the satire goes. Otherwise, it's pure nonsense, great fun, leading to the requisite happy ending with honour maintained, celebrated in a typical knees-up finale.
The score is a remarkably varied mixture of ensemble pieces for up to six voices and chorus that alternate with relatively brief passages of spoken dialogue. There's a lively pastiche of Mozart, a take-off of the "Rataplan" from Verdi's Force of Destiny, and a patter song for a fake major who sounds remarkably like Gilbert and Sullivan's Major General in The Pirates of Penzance, written a few years later.
Solo numbers in the early acts tend to be character pieces, such as that for Rodolphe Briand's Gardefeu, but the operetta was severely cut for its première because the singing actors could not cope with the greater vocal demands of the fourth and fifth acts. No problem here, however.
This is the first performance to restore, as far as possible from remaining fragments, the complete original version. As a result, it runs to nearly three hours, but never flags in this high-energy production by Christian Lacroix, who also designed the wacky costumes and set.
Jodie Devos is a charming, mischievous Gabrielle, mezzo Aude Extremo is impressive as Metella, the soft-hearted courtesan, and Elena Galitskaya a seductive Pauline—all three benefitting from the more expansive writing in the restored final acts.
It's the role of the men in such fripperies to serve as comic foils, Eric Huchet leading the way in different roles, Marc Maulisson as a bubbly Bobinet and Franck Leguerinel as the absurdly bewhiskered Baron, hardly deserving of his honey-toned wife, Sandrine Buendia as the baroness.
The staging introduces a touch of high camp decadence in the form of male dancers in basques and high heels, one with a remarkable ability to wiggle feathers on his bottom during the mother of all mornings after the night before.
Romain Dumas conducts with a bounciness as if his musicians were on springs, underpinning not one but three spirited gallops in act finales. As if that were not enough, the cast reassemble for an encore repeat. I felt like joining them.
Reviewer: Colin Davison