La Voix Humaine
Poulenc
OperaUpClose
Kings Place
–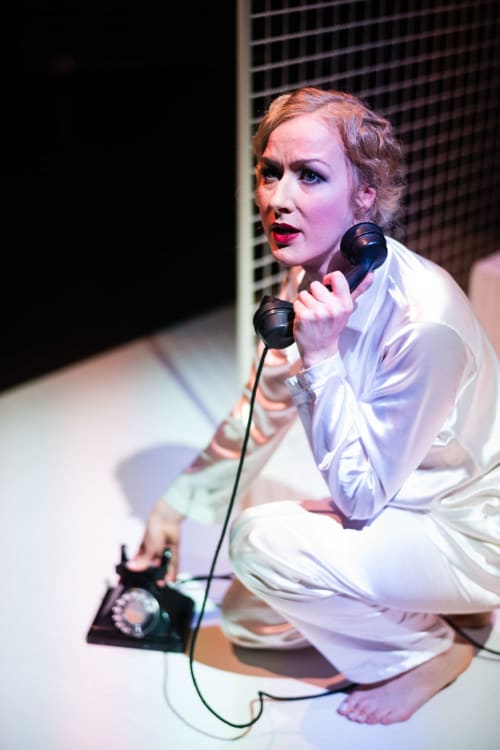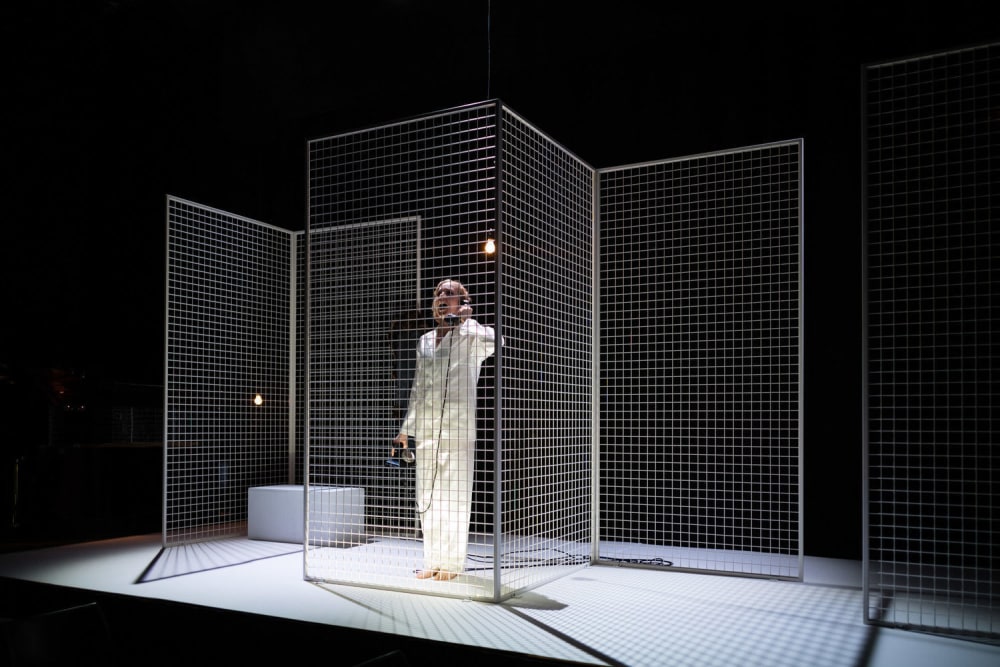 Entering La Voix Humaine, Elle is found face down in white pyjamas, caught askew in a pose of despair.
She's a satin statue amongst a brilliant white theatre set (designer Kate Lane) surrounded by flats made of white wire mesh. The lighting is stark—the type that puts you off buying anything in unflattering changing rooms. Upon this minimalist set sit two white cubes and a black telephone with yards of cable snaking across the stage.
The only other furniture is the grand piano. Although La Voix Humaine is for solo voice, this opera is very much a duet and the piano deserves to be onstage. The instrumental writing introduces plot and change of mood. Richard Black (music director) plays beautifully, dextrously moving around Poulenc's fluctuating, angular score.
Unusually for opera, this is a one-woman show, the dialogue all taking place through a telephone, and we must imagine the responses. Elle and her partner are separating and she desperately clings to her last means of connection, glued to the phone.
Director Robin Norton-Hale makes it clear in the programme that during rehearsals she and Sarah Minns (Elle) imagined the voice on the other end of the line to be a woman's, Elle's lesbian partner.
Although this has influenced the direction, it isn't apparent to us as the text remains the same, but Norton-Hale writes that it brought out different qualities to Minns's reactions.
However it was achieved, the trajectory of Minns's mentally unstable character is cleverly portrayed as a fragile woman trying hard to put a brave face on the situation, occasionally failing with the odd outburst nearing hysteria. Approached in this way, we are far more sympathetic to Elle's character, empathising with her attempts to create a façade of normality whilst her life and emotional wellbeing crumbles.
Minns is in fine voice, her crystal clear diction making this intimate opera easy to follow. We're in Hall 2 in Kings Place, a small studio theatre ideally suited to La Voix Humaine and the balance between piano and singer is spot on. Joseph Machlis's English translation is excellent and still feels very natural.
Initially Minns's husky, breathy onset to phrases works well as a flirty affectation but this does become wearing as the piece develops. She holds the stage well—the minimalist set gives her little to work with, but suggests the feeling that she is trapped, pacing in her white cell with only the telephone connecting her to the outside world.
Half serious, half joking, Elle initially threatens the miscreant on the other end of the line with her bulky black telephone, but in the end the telephone is dangerous only to herself. She uses it to torture herself, and there is the implication that she might use its long cord to end that anguish.
Poulenc's 20th century score has no big tunes and is emotionally a demanding piece for the audience, but the staging is well-paced and Minn's energetic stage presence carries us through this 50-minute tour-de-force. The difficulty with the telephone connection keeps a frantic, desperate element to the proceedings—the chance that she might lose her lover at any moment and the frantic scrambling to get them back on the phone.
Only OperaUpClose's second foray into twentieth century opera, La Voix Humaine is another jewel in its crown.
Reviewer: Louise Lewis