La Voix Humaine & L'Heure Espagnole
Maurice Ravel & Francis Poulenc
Opera Zuid
Opera Zuid, Maastricht, Netherlands
–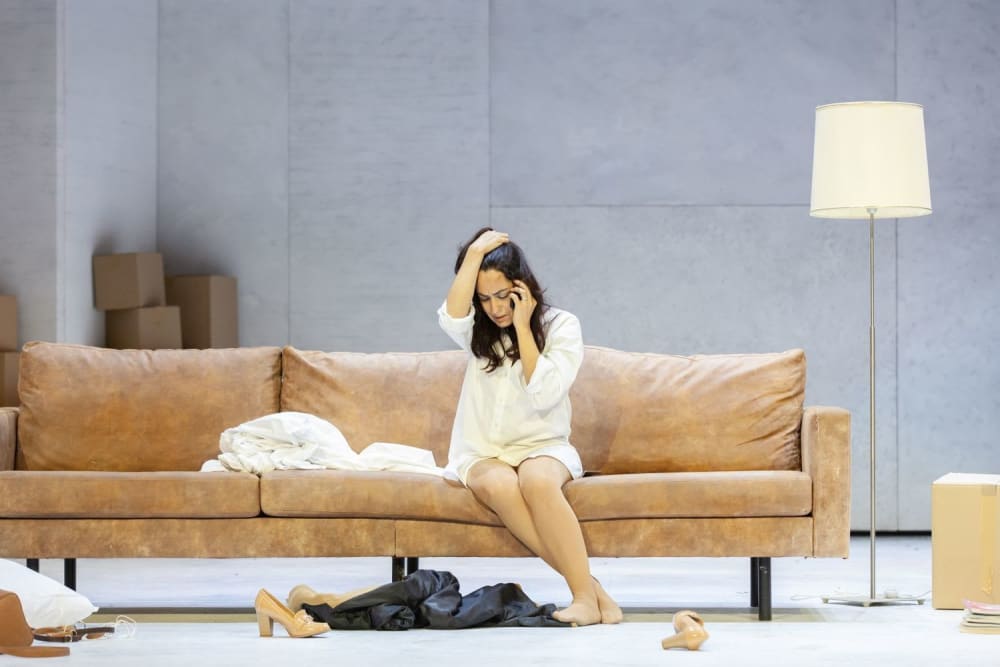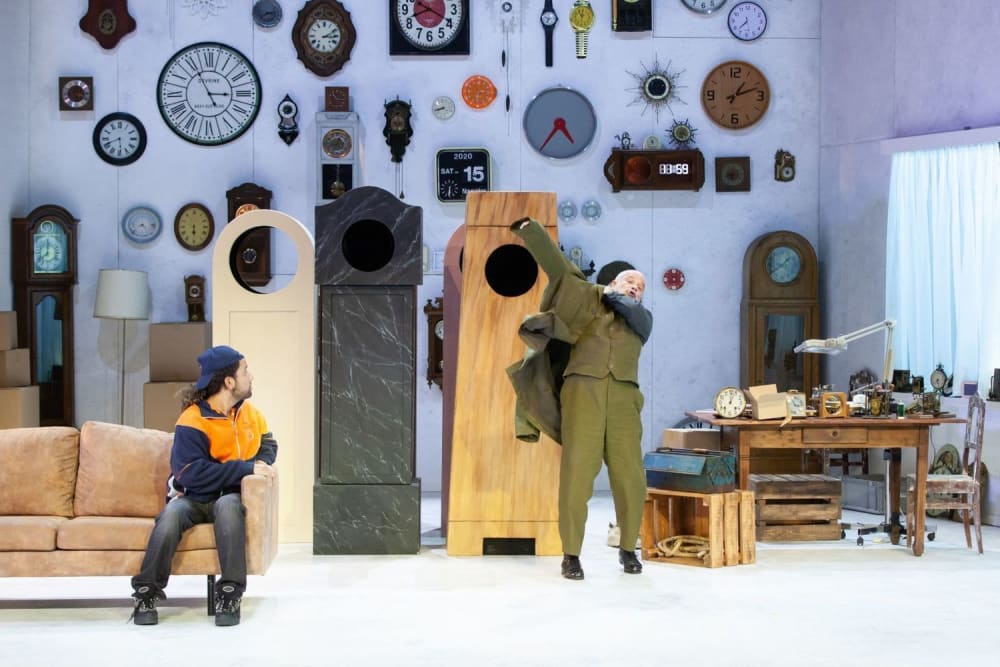 Opera Zuid is streaming a double-bill, two 20th century French masterpieces, both directed by Béatrice Lachaussée and conducted by Karel Deseure.
The programme opens with an operatic adaptation of Jean Cocteau's 35-minute monodrama, La Voix Humaine, which had premièred at the Comédie-Française in 1930 with Berthe Bovy in the lead role. The play and the opera has attracted such famous names as Anna Magnani, Simone Signoret, Ingrid Bergman, Sophia Loren, Denise Duval, Jessye Norman, Magda Olivero, Renata Scotto, Felicity Lott and, most recently, Tilda Swinton.
A discarded mistress (Talar Dekrmanjian) is talking on the phone to her lover, who has ditched her and is marrying somebody else. They have been in a relationship for five years. She looks ill. She hasn't slept. She is on the verge of a breakdown and suicidal. She wants to win him back. She tries flattery. She tries blackmail. She weeps. She lies. Her distress is exacerbated by the phone constantly cutting her off. The phone plays a major role.
In 1959, Francis Poulenc, a good friend of Jean Cocteau's, composed his operatic monologue for Denise Duval, his favourite singer, an extraordinary tour de force for both of them. Cocteau wrote the libretto and directed the production. He also designed the scenery.
The music brilliantly reflects speech patterns, pauses and hesitations. It's a great score. Poulenc's total ambiguity is the perfect complement for the fraught text, the despair, the anxiety, the pain and the anguish. Talar Dekrmanjian's performance, over-directed (as if she were on a stage rather than in her own bedroom) has the diction and the taxing emotional commitment.
Maurice Ravel's L'Heure Espagnole (Spanish Time), a comedy musical in one act lasting 50 minutes, premièred in Paris in 1911 when audiences found the subject matter slightly risqué and more suitable for vaudeville theatres than opera houses. The libretto is by Frank-Nohain and based on his 1904 play. The farce is set in Toledo in the 18th century. Zuid Opera has updated it to the present.
The bored wife (Romie Estèves) of a clockmaker (Gilles Ragon) doesn't want to be faithful and pure. She wants to have sex once a week with a lover. She is courted by two men: a young poet (Peter Gijsberten, posturing too much) and an elderly banker (Alexandre Diakoff). Neither of them is up to it. Imagine a grandfather clock without a pendulum. Fortunately for her, there is a delivery man (Michael Wilmering in the best role) who is able to deliver the goods. He has the biceps.
Having never seen Ravel's L'Heure Espagnole before, I have now seen it online three times in seven days. Grange Park shot their production this February and they, too, have updated it. The filming actually took place in a real clock shop, Howard Walwyn Fine Antique Clocks in Kensington High Street. The singers mime to their own soundtrack.
The performance I enjoyed most of the three I have seen, however, was a 1987 Glyndebourne production, set in its correct 18th century period, directed by Frank Corsara, conducted by Sian Edwards and designed by Maurice Sendak.
This version is charming and funny, an absolute delight, perfectly sung and acted. The cast behaves like clockwork toys come to life. Remy Corazza is the cuckolded watchmaker. Anna Steiger is his brittle wife. Thierry Dran is the immature poet. François Loup is the aged financier. Francois Le Roux is the naïve mule-driver, who has to lug grandfather clocks up and downstairs before he is paid in kind. Do clock in online. À tout à l'heure.
Reviewer: Robert Tanitch