The Furies/Land of the Dead/Helter Skelter
Neil LaBute
Dialogue Productions in association with Mercury Theatre Colchester, Yvonne Arnaud Theatre and the Bush Theatre
The Ustinov, Bath Theatre Royal, and touring
(2010)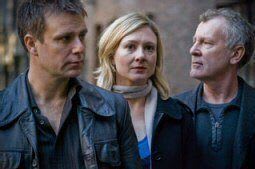 Neil LaBute's trilogy of short plays, currently touring the UK, leave you with something akin to a kind of theatrical whiplash. This "kick in the stomach" is entirely the effect LaBute was aiming for: "get people laughing, then make that laugh stick in their throats."
Each one-act play spotlights a relationship at the point of crisis; the three are connected only by what LaBute describes as the "acts of emotional terrorism" at their core.
The cast of three - Patrick Driver, Frances Grey and Stuart Laing - carry LaBute's vehicle perfectly. With solid performances from each of them, Grey in particular stands out, stunning in her versatility and deeply affecting in each of the three characters she plays.
Although LaBute gives you plenty of warning in the programme notes that through the comedy he intends to deliver you with a body blow, in fact when each blow comes, nothing quite prepares you for the ferocity of its impact.
The Furies, the newest of the three, is also the weakest in some respects: surprising and entertaining, certainly, but it lacks the force or the substance of what follows. In The Land of the Dead, for example, written in the aftermath of 9/11, is a haunting, stripped-bare narrative that leaves you emotionally wrung-out. And the last "kick in the stomach" of the evening, Helter Skelter, has the audience react physically, recoiling back in their seats; whiplashed.
And so the effect of the trilogy is cumulative; like a tornado, it gathers strength as it goes. As LaBute writes, with characteristic precision, "Enjoy. Repeat"
Tours to the Drum, Plymouth; the Citizens, Glasgow; Greenwich Theatre; Arc, Stockton; Northern Stage, Newcastl; Salisbury Playhouse and Harrogate Theatre.
Simon Sladen reviewed this production at Greenwich
Reviewer: Allison Vale